Buses in Rome
There are several bus lines in Rome. Most of them start and end at the main station, Termini. During the day, the bus trips run between 6:00 am to 12:00 midnight. The night bus buses travel from 12:30 am to 5:30 am.
Want to know exactly which bus line to take and which bus to get on? Read on our simple tips for riding buses in Rome. It's important to note that bus lines can get very busy and you have to hurry into a bus ride!
Line 40 Express
Termini – Piazza Pia
Between Stations: Via Nazionale, Piazza Venezia, Largo Argentina, Chiesa Nuova, Piazza Pia
Line 64
Termini – Stazione S. Pietro
Between Stations: Via Nazionale, Piazza Venezia, Largo Argentina, Corso Vittorio Emanuele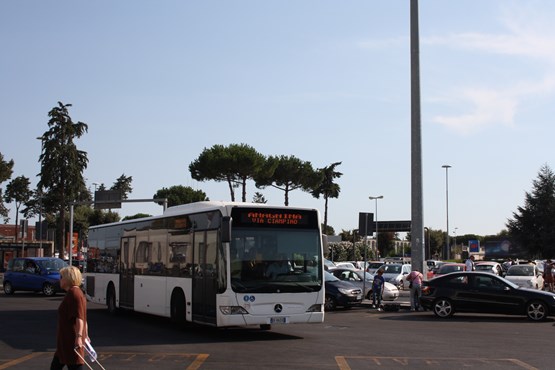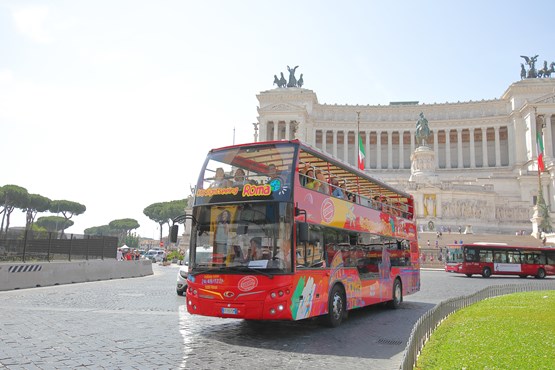 Line 170
Termini – Piazzale dell'Agricoltura
Between Stations: Via Nazionale, Piazza Venezia, Via del Teatro di Marcello, Bocca della Verita, Piazzale dell'Agricoltura
Line 714
Termini – Piazzale PL Nervi
Between Stations: Piazza S. Maria Maggiore, Piazza S. Giovanni, Viale delle Terme di Caracalla
Line 910
Termini – Piazza Mancini
Between Stations: Piazza della Repubblica, Via Piemonte, Via Pinciana (Villa Borghese), Piazza Euclide, Nido dello Sport
Line 110: Open Bus Tour
Besides the city buses there's also a bus line 110, for tourists. These double decked buses drives pass several attractions and allows you to hop-on and hop-off at any of the stops for the whole day. Tickets for the bus cost €14.40 and are valid for an entire day. Tickets are available from the driver (as opposed to the other buses, where you have to have an advance ticket purchase). The double decker runs seven days a week and starts at 8:30 am and ends at 10:00 pm. You can include walking out to the Colosseum, St. Peter's Square, Trevi Fountain and Termini.
Also Interesting
Metro Rome
Metro Rome has two main metro lines, Metro Line A and Line B, with both lines intersecting at the Termini Train Station. Read more......
Trams in Rome
Rome possesses the largest tram network in Italy. Currently, there are six active tramlines in Rome. Although you would probably travel with bus or metro, sometimes it will be nice to take te tram. Read more......
Taxis in Rome
Several taxis are available at the Termini but be sure to take the legitimate ones! You can find many taxi stands around Rome. Read on for the rates of taxis in Rome. Read more......