Explore Rome, Join the Bicycle Tour
One great way to discover Rome is by exploring it by bike. You can sign up for one of the many bike tours being offered. The tour is usually a four-hour bike ride that already includes most of the known sites and some less popular sites as well. Bike tours go along roads with the least traffic so that everyone can really maximize the time.
Bike tours allow tourists time to stop to take pictures or grab an Italian cappuccino along the way (price not included).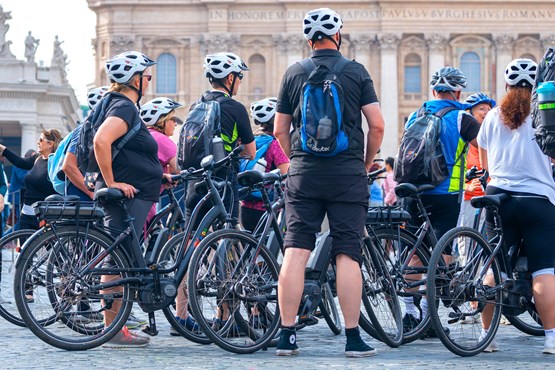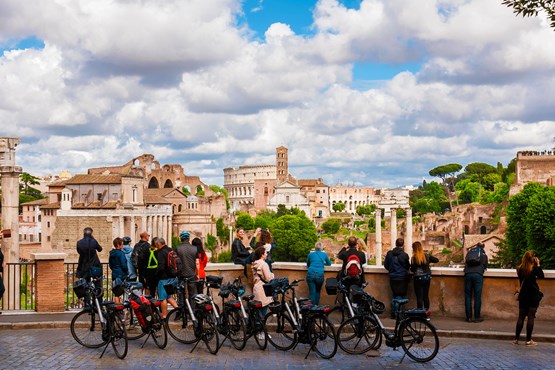 Routes
The routes for the morning and afternoon excursions vary.
The morning itinerary starts at the Trevi Fountain, Via dei Condotti, Spanish Steps, Via Margutta, Piazza del Popolo, Piaza Navona, Trastevere, Tiber Islang, Capitoline Hill and ending with the breathtaking views of the Roman Forum…
For the afternoon excursion, start off is at the Via dei Condotti, then to Via Margutta, Piazza del Popolo, Piaza Navona, Trastevere, Tiber Island, Capitoline Hill, the Roman Forum, Circus Maximus and ending at the Castel Sant'Angelo.
Tour Package
The bicycle tour package already includes the bike, gears, a helmet and a raincoat. The price is € 35 for adults. Children up to four years old are free. Child bike seats are available.
You can book online and you will receive an online voucher via mail, which you will present before the tour as a proof of payment.
Also Interesting
Hop On Hop Off Bus Tour
If you are new to the eternal city and you want to enjoy the beauty of the entire city, the best option to do such is by taking a hop on hop off bus tour. Read more......
Rome Segway Tour
The Rome Segway Tour has the advantages of walking or biking sans the hassle and plus the excitement. The Coolest Ride of the 21st Century. Read more......
Vatican City Tours
There are several excursions you can book apart from the Vatican Museum. St. Peter's Basilica and other basilicas accept visitors and tourists. Read more......