Tours
POPULAR EXCURSIONS
Rome Tourist Card
Rome Tourist Card
Snap up the Rome Tourist Card and you'll get everything you need to explore Rome's top highlights including Colosseum, Palatine Hill, Roman Forum and Hop on/off bus. You can even choose the order you see things in.
Colosseum, Roman Forum & Palatine Hill: Priority Entrance
Colosseum, Roman Forum & Palatine Hill: Priority Entrance
Skip the long lines at the Colosseum with this priority-entrance ticket. This ticket will let you bypass the crowds. And after exploring the Colosseum you can head to the area of the Roman Forum and the Palatine Hill.
Vatican Museums & Sistine Chapel: Skip The Line
Vatican Museums & Sistine Chapel: Skip The Line
This ticket will make you save stress and time by allowing you to get priority entrance and skip the line. Visit the the countless masterpieces by Michelangelo, Raphael, Caravaggio, Tiziano and the Sistine chapel.
Borghese Gallery: Fast Track
Borghese Gallery: Fast Track
Galleria Borghese is located in the villa of the park Villa Borghese. Admire the architecture and furnishings of this beautiful villa. It is a museum full of art from the Renaissance. The collection includes several sculptures and paintings. Because of limited capacity get tickets for this museum weeks in advance.
St. Peter's Basilica: Dome Climb with Guide
St. Peter's Basilica: Dome Climb with Guide
Get the most out of your visit to St. Peters with a guided tour to climb the basilica's dome designed by Michelangelo and admire one of the stunning view. After the tour, you can explore the the basilica at your own pace.
More excursions & tours
Discos and Clubs in Rome
Due to its mild winters and long, hot summers, Rome is the ideal place to enjoy a great nightlife the whole year round. There is a wide choice of night clubs, discos, and live music venues with restaurant service, cocktail bars and, during the summer, outdoor shows and events. 
Romans eat quite late in the evening (around 8-9 o'clock), so most live acts do not start before 11.00 pm, and discos won't be very crowded before midnight. Admission prices usually include a free drink. Some clubs have the status of "associations", so don't be surprised if you are asked to fill in a card with your details at the entrance: it's a quick way get the status of member, which will allow you to enter the venue. 
From late spring to early autumn, you'll be able to enjoy a relaxed evening or a fun night out dancing, in venues that feature outdoor spaces, such as panoramic terraces or cozy gardens. Some clubs require a particular dress code, especially for men, such as a jacket and tie. But in most places you'll be at ease if you wear a smart casual outfit. Some venues can get very crowded so, if you want to make sure that you get a table, it's best to book in advance.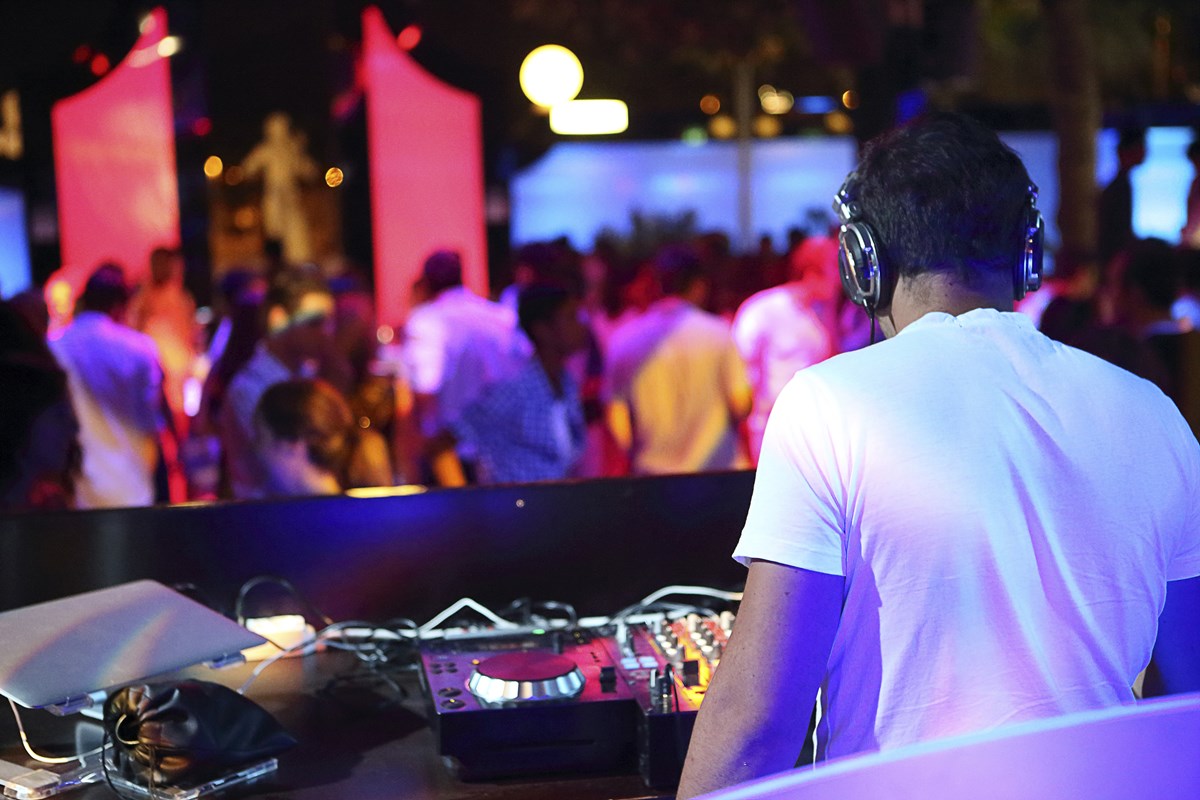 Campo de' Fiori: The place to be for a fun night out in the Historical Center 
Situated between the Tiber and Piazza Navona, Campo De' Fiori is a square that is constantly alive. From the early morning, the square hosts a fresh local products market, and stands selling traditional delicacies. From the late afternoon onward, people come here to have an appetizer, dine at one of the many restaurants in the area, meet with friends at the bottom of the Giordano Bruno statue that towers in the middle of the square, and continue the evening in a pub nearby. 
Here's a couple of venues that are worth a visit: 
Argot (Via dei Cappellari 93, just behind the Square) - This cozy club will welcome you with a warm atmosphere, fine cocktails and wines, and classy live music. 
The Drunken Ship (Piazza Campo de' Fiori 20) - Popular amongst international students, this lively venue will entertain you from the appetizer to the nightcap, with daily DJ sets, themed parties and fun drinking games, such as Beer Pong. 
If you decide to take a short walk from the square, here's a couple of trendy venues situated nearby: 
Fluid (Via del Governo Vecchio 846) - Ultra-modern and sleek, this venue will surprise you with its sparkling and high-tech design and lighting effects. Attention to every detail, classy DJ sets and quality drinks have boosted the success of Fluid, which is one of the most popular cocktail bars in town today. 
Bar del Fico (Piazza del Fico 26) - Welcoming staff and a great and informal atmosphere: this wine bar has been one of the local favorites for decades. At the bar, you'll find a great selection of wines and cocktails to spice up your evening.   
The Roman Nightlife Districts
There are some neighborhoods that are closely linked with the so-called "movida", a Spanish word that is now commonly used in Italy to describe the custom of enjoying a night out moving from one place to another. The preferred movida locations may change over time, as some areas may become more trendy than others. 
Generally speaking, the districts that are more lively at night are Testaccio, Ostiense and Trastevere. These neighborhoods are situated within the city's limits, but, apart from Trastevere, not at walking distance from the historical center. This means that you will either have to catch public transport or a taxi to get to your desired location. Public transport is quite limited at night. There are very few bus routes available past midnight and the last Metro train departs at 11.30 pm. 
In the following sections, dedicated to discos and clubs, we'll mention the ones that are located in one of these areas. The admission tickets (when shown) are indicative only, as costs may vary according to the venue's programme.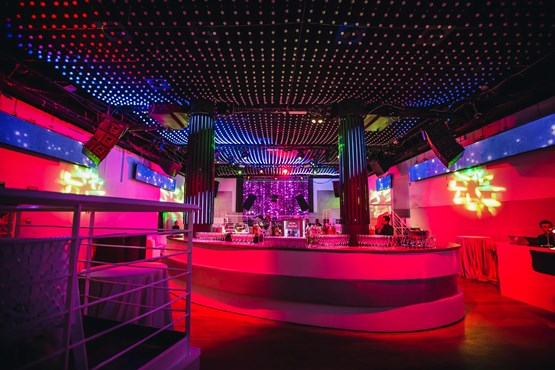 Room 26 - Disco in Rome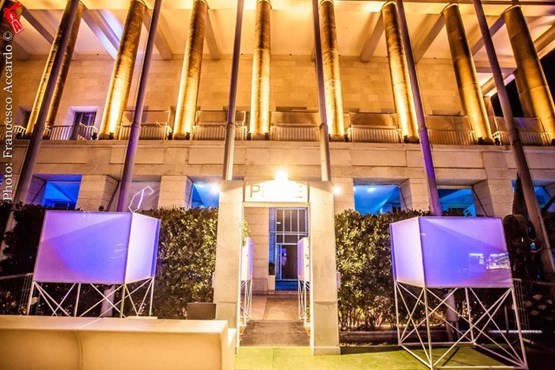 Room 26 - Disco in Rome
Best Discos in Rome
Room 26 - Located in the modern southern district called EUR, this club is famous for its international guests and quality audio system. Great resident DJs and weekly events not to be missed by house music lovers. 
Address: Piazza Guglielmo Marconi 29 – EUR
Opening Hours: 21.00 – 04.30 
Admission: € 15 with free drink. Private area tables: € 20 per person. 
Jolie Club (ex ALIEN) - New management has brought new life to this iconic disco. Techno and house music until dawn, two modern looking dance floors for a chance to enjoy a classy and fun night out. 
Address: via Velletri 13 
Opening Hours: 23.30 – 05.00 
Admission: If you call in advance, you may get on the special list for free admission until 02.00 
Qube - Informal atmosphere, good service and a clientele of all ages. This three-story building features different dance floors and music styles. Themed parties on special occasions. 
Address: Via di Portonaccio 212 – San Lorenzo/Stazione Tiburtina
Opening Hours: 22.00 – 04.00 
Alibi - One of the most popular discos in town, right in the middle of the lively district of Testaccio, where you'll also find plenty of pubs and smaller live music venues. Resident DJs, international guests and special events on the venue's terrace. 
Address: Via di Monte Testaccio 40 – Testaccio
Opening Hours: 23.30 – 05.00 
Goa - Although rather small, this industrial goth styled club is considered one of the temples of techno and EDM (Electronic Dance Music). Since its opening, in 1996, many famous DJs have played here, including Claudio Coccoluto. On certain occasions, it might be fully booked. That's why it's best to contact the club before heading there for the night. 
Address: via Giuseppe Libetta 13 – Ostiense
Opening Hours: 23.30 – 05.00 
Admission: € 15 with free drink. 
Spazio 900 - This disco is considered one of the most elegant venues in town. Situated in an historic building, it's not open every day, so you will have to check the programme before heading there. It features a large space with the dance floor that can hold up to a thousand guests, and a sound system that will literally blow you away. 
Address: Piazza Guglielmo Marconi 26/B – EUR
Vista Club - One of the most beautiful and spectacular open air discos in town, this is the perfect venue to enjoy dancing during the warm summer nights. It can accommodate up to 1500 guests, who will be entertained by fun '70's/'80's/'90's music or selected house DJ sets. 
Address: Via del Parco del Celio 10 – Colosseum
Opening Hours: 21.30 – 4,30 
Piper Club - The Piper is probably of the most famous discotheque in Rome (and maybe in Italy) due to its long and glorious history of continuous success. The venue opened back in 1965, when it soon became a landmark for the beat and underground music movements. Today, it's home to some of the best DJs in town and continues to be the meeting point for VIPs and an upper class clientele, due to its location in the posh Parioli/Coppedè district. 
Address: Via Tagliamento 9 – Parioli
Opening Hours: 00.00 – 05.00 
Best Clubs and Live Music Venues in Rome 
Alexander Platz - If you are a jazz music lover, this is a destination you cannot miss. Awarded with prestigious international awards and considered one of the top 100 jazz clubs in the entire world, this venue has offered live music concerts every night, since 1984. Almost every great musician of the last four decades has played here, and the artistic management guarantees a programme that it's always up to the highest standards. It features a restaurant where you can enjoy delicious meals in a great atmosphere. 
Address: Via Ostia 9 – Prati
Opening Hours: 20.30 – 01.30 
Admission: € 10 
Village Celimontana - A stunning outdoor location in the historical Villa Celimontana, this venue hosts a summer/autumn festival packed with great concerts. The area features street food stands and a bar. An incredible atmosphere for a romantic night out in the heart of Rome.
Address: Via della Navicella 12 – Colosseum/San Giovanni   
Opening Hours: Concerts start at 22.00 
Admission: Free.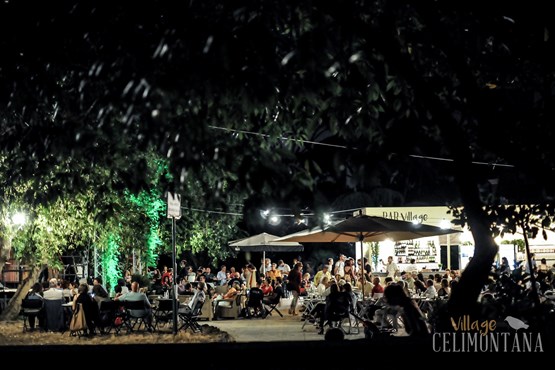 Village Celimontana - Rome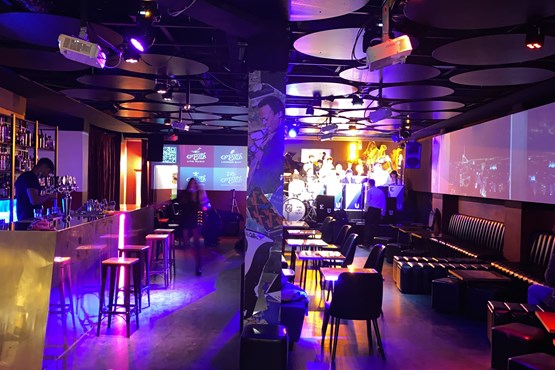 Cotton Club - Rome
Cotton Club - This famous live music venue features a restaurant and a lounge bar. Here you'll enjoy a rich programme of shows, with a particular focus on jazz. The Cotton Club is open from the morning to the late evening, and it promotes a new way to relax and enjoy music and art . Recently, it has also become an inspiring and sleek co-working space with 360° video projections.
Address: Via Bellinzona 2
Casa del Jazz - This unique venue features a complex with three buildings set in a three acres public park. The rich programme of the shows includes some of the most popular local and international jazz players. 
Address: Viale di Porta Ardeatina 55 - Ostiense 
Opening Hours: Concerts start at 20.00 
Admission: € 10 
Planet Roma (Alpheus – Ex Magazzini) - This large venue features six different dance floors and stages, plus five bars and a restaurant, in an area of around 3000 square meters. The programme includes all genres of music, theatre performances, festivals and special events. 
Address: Via del Commercio 36 – Testaccio /Ostiense
Opening Hours: From 20.00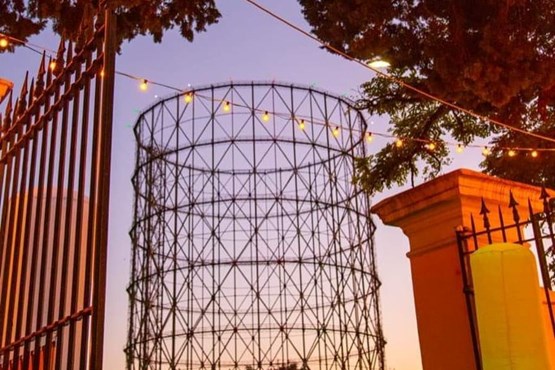 Planet Roma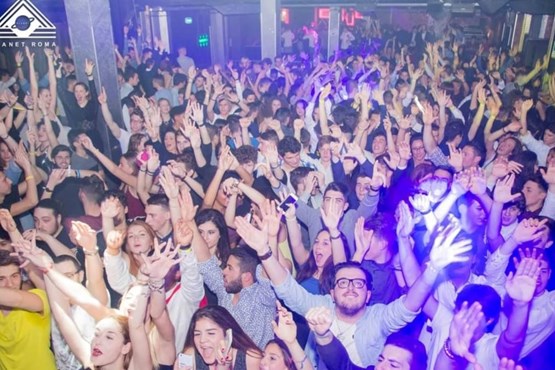 Planet Roma
Caffé Latino - If you love good quality live music, then this is the perfect venue to spend a fun night out in a colorful atmosphere. Weekly reggaeton and salsa events. Located in the Testaccio area, the club, since 1987, is one of the hot spots of the local movida. 
Address: Via di Monte Testaccio 96 – Testaccio
Opening Hours: 23.30 – 04.000 
Big Mama - Unanimously considered the temple of blues music, features a restaurant and  bar in a cozy and warm atmosphere. If you want to fully enjoy the show, it's best to book a table close to the stage. 
Address: Via di Monte Testaccio 96 – Testaccio
Opening Hours: 21.00 – 01.30 
Admission: Membership card € 15 
Conte Staccio - This surprising venue is in the heart of the trendy Testaccio district. The rich programme of the live shows include upcoming artists as well as more prominent acts, mainly belonging to the Italian music scene. 
Address: Via di Monte Testaccio 65 – Testaccio  
Opening Hours: 19.00 – 04.00 
Admission: Free 
BeBop - Stone walls and an elegant decor will welcome you as you walk into this exclusive club. Jazz music and jam sessions will caress your ears as you sip your drink or enjoy a fine meal.   
Address: Via Giuseppe Giulietti 14 – Testaccio
Opening Hours: From 20.30. Concerts start at 22.00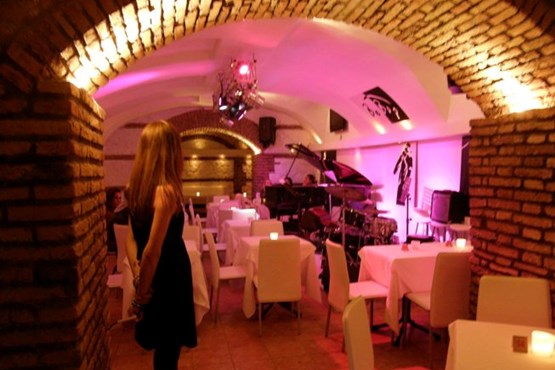 BeBob Jazz Club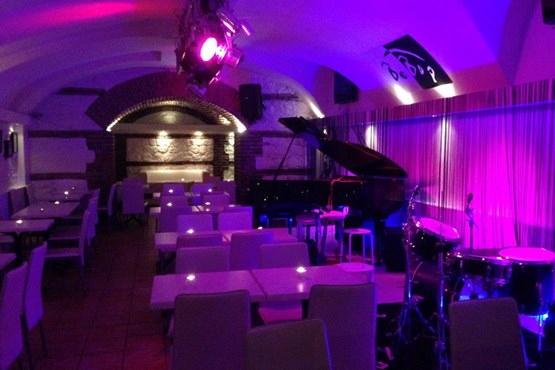 BeBop Jazz Club
The Auditorium of Rome "Parco della Musica" 
Designed by the world famous architect Renzo Piano, this modern complex opened to the public in 2002. It is located between the posh Parioli district and the old Olympic Village (now a residential area). Its rich programme of events includes concerts of the most famous names in the music business, and the most diverse music genres. With its three concert halls, a theatre and external cavea, it's a must-go-to place for every music lover. The auditorium also features a cafeteria/restaurant and a music and art themed bookshop. 
Estate Romana: The Summer Festivals 
Summer is definitely the best time of the year to enjoy a night out in the city. From the beginning of June to the end of September, there are many festivals around town, held in fascinating locations, such as the river banks, near the Colosseum or in the city parks. Rock and classical concerts, outdoor performances, film festivals, night markets and special events: the whole city comes alive, attracting a local audience as well as other visitors. 
Heading Home? Stop for a Delicious Snack Before you go to Sleep! 
If too much dancing or walking around town results in an understandable sense of hunger, Rome will surprise you once again! In the early hours of the morning, you'll be able to taste some great hot croissants, fried donuts, sweet buns and many other delicacies, straight from the oven, simply by heading to one of the many pastry shops and bakeries open to the public from midnight (sometimes later) onwards. One suggestion: try the maritozzo, an aromatic sweet bun of generous proportions, cut in half and stuffed with cream: a typical Roman tradition you won't find anywhere else! 
These bakeries are well spread all over town, so chances are there will be one on your way. Below is a short list of some of the most popular. The name of the district is shown in brackets. 
Dolce Maniera, Via Barletta 27 (Prati) 
La Sorchetta doppio Schizzo, Via Cernaia 47 (Termini) 
Il Maritozzaro, Via Ettore Rolli 50 (Trastevere) 
Cornetteria San Lorenzo, Via dei Piceni 28 (San Lorenzo) 
You might also like