Piazza Navona
Piazza Navona, a 15th century oblong square, is the remains of Circus Agonalis, a former sporting stadium built by Emperor Domitian in 86 BC. Houses were built on the ruins which still has the shape of the stadium and so arose the Piazza Navona.
The Piazza Navona is famous among the artists and tourists. It is very popular, not only because of its picturesque appearance, but also due to other attractions such as the fountains, palaces, churches, cafes and restaurants around it. The following are the must-see spots while you are at the oblong square, Piazza Navona.
Sant'Agnese in Agone
It's a 17th century Baroque church built by Girolamo Rainaldi in 1652. This is the basilica where the early Christian St. Agnes was martyred.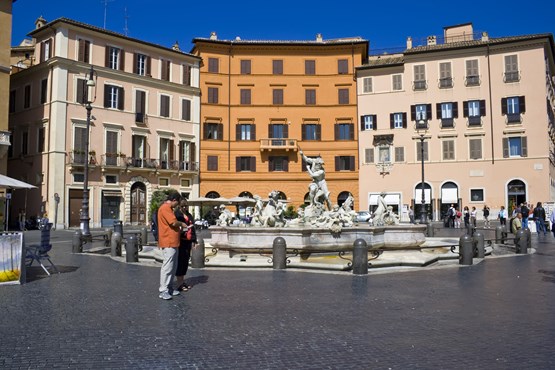 La Fontana dei Quattro Fiumi or the Four Flowing Fountain
It's one of the largest and most famous fountains of Gian Lorenzo Bernini. It was erected for Pope Innocent X. The fountain represents the four major rivers of the continents where the papal authority have spread: the Nile, the Danube, the Ganges, and the Rio de la Plate.
Fontana del Moro or the Moor Fountain
It's the creation of Michelangelo's student, Giacomodella Porta, in 1576 together with a Moor designed by Bernini. The Moor represents the African brawling with a dolphin and it is surrounded by four tritons.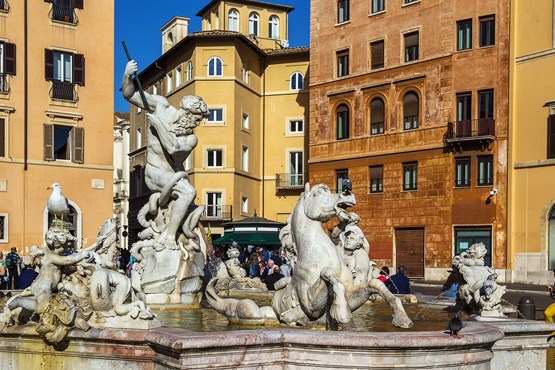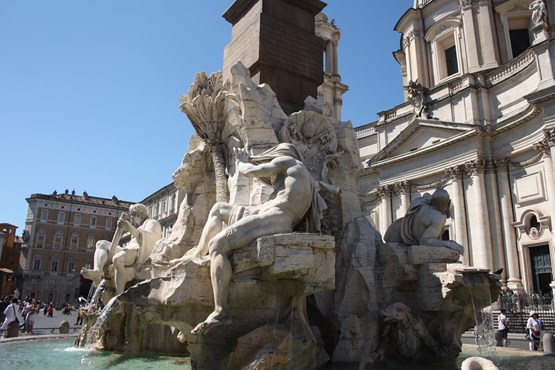 Fontana del Nettuno or the Fountain of Neptune
It's a basin designed by Giacomo Della Porta in 1547 and completed by Antonio dellaBitta hundred years later.
Museo di Roma
It's located inside Palazzo Braschi. This museum is famous due to its hefty collection of paintings, drawings, photographs, books, furniture and ceramics that depicts the opulent history of Rome from the Middle Ages to the mid-twentieth century.
Also Interesting
Neptune Fountain
Neptune Fountain, previously known as Fontana del Nettuno, is one of the three fountains found at Piazza Navona. The fountain was specially made in commemoration the newly appointed Pope Pious IV. Read more......