Top 5 Hotels near Piazza Navona and the Pantheon
Piazza Navona is the most renowned oblong shaped city square in Rome. It is like a gigantic palpable podium where you can witness the typical daily Roman life. It was built over the ruins of the ancient sporting stadium known as Circus Agonalis.
Piazza Navona is among the most favorite places in Rome that painters, sculpturers and other artists love visiting. However, you don't need to be an artist to appreciate the beauty of the square. Among the must see attractions in Piazza Navona are the Fountain of Neptune or Fontana del Nettuno, the Moor Fountain or Fontana del Moro, Bernini's largest and most renowned Four Flowing Fountains, also known as La Fontana dei Quattro Fiumi, Rainaldi's Baroque church known as Sant' Agnese and the Museo di Roma.
Close to Piazza Navona is the Pantheon. This ancient Roman structure is one of the most preserved buildings and one of the great emblems of Rome. The Pantheon corroborates the prodigy of ancient art and architecture.
There is a wide array of hotel accommodations around the areas near the Pantheon and Piazza Navona. When planning to visit Rome, it would help if you do some research first about where to best stay in Rome. With the beautiful, yet budget-friendly hotels around the areas of these two main sightseeing attractions in Rome, surely you will have the perfect Rome getaway. Here are the top 5 hotels near Piazza Navona and the Pantheon.
Hotel Albergo Abruzzi Rome
Hotel Albergo Abruzzi Rome, or simply Hotel Abruzzi, is a three star hotel that is located just a short walk away from the major sightseeing spots like Piazza Navona, the Pantheon and Piazza di Montecitorio. The traditional Roman restaurants and cafes as well as the exclusive shops around the Spanish Steps are just within walking distance from the hotel.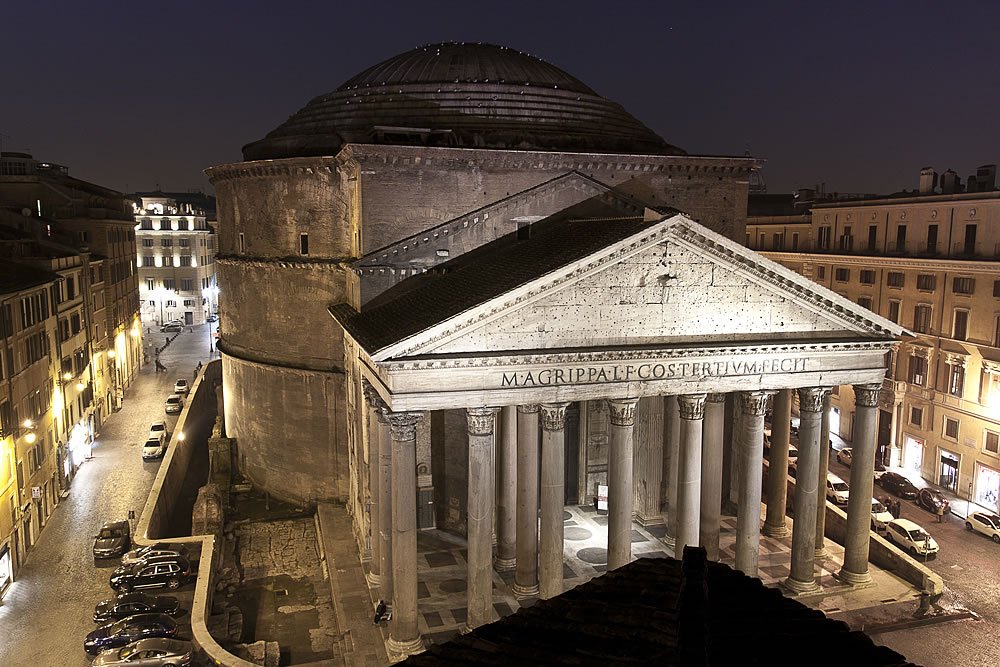 What makes Hotel Abruzzi so popular is the magnificent view you can see right from your room. From the windows of the hotel, you can take a quick look at the Pantheon which is considered as among the greatest tourist attractions in Rome. You can also enjoy a scenic view of the fantastic Piazza della Rotonda and appreciate the intricately designed mausoleum as well as the great fountain of the 16th century made by Giacomo Della Porta.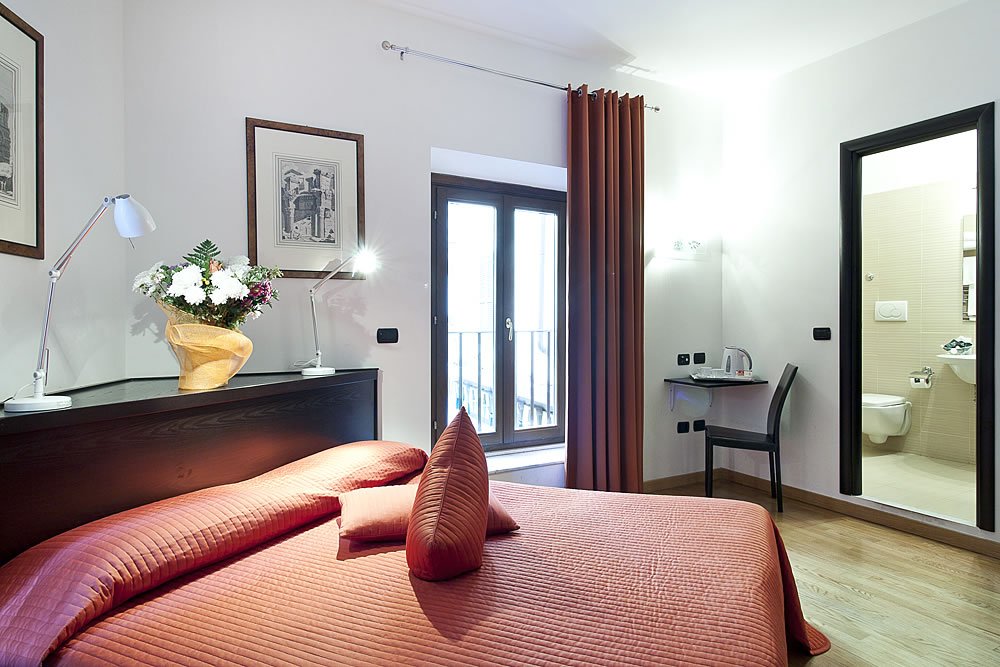 Hotel Abruzzi is among the top choice of the tourists and locals alike who are looking for a great place to stay at the historic center of Rome. In fact even the famous French architect Le Corbusier had chosen to stay at Hotel Abruzzi during his trip in Italy in the 20th century. It is located in an ancient building that had been completely renewed last 2006.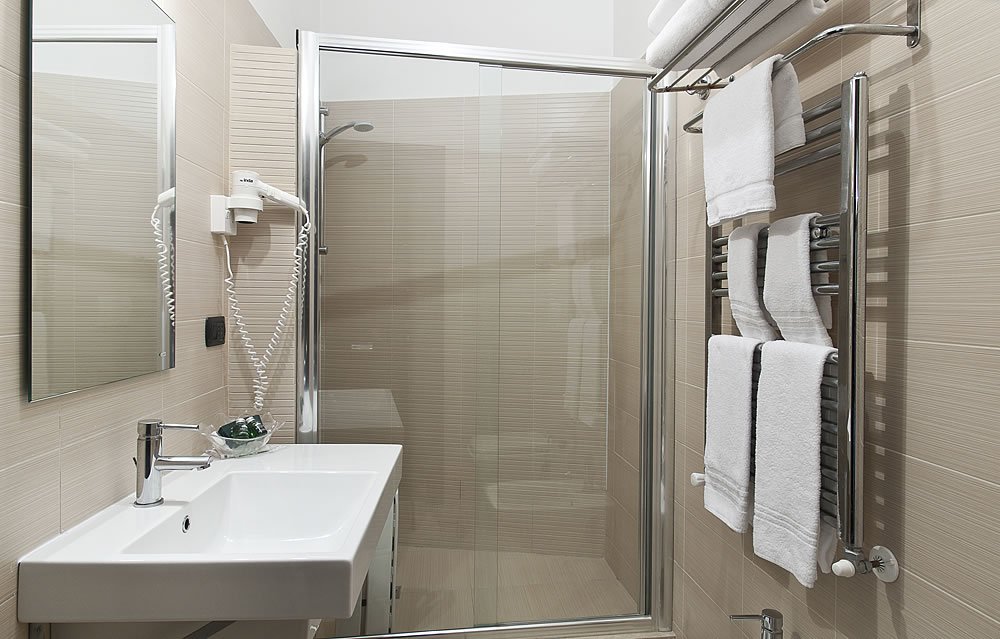 Although housed in a completely ancient building, the hotel is well equipped with contemporary facilities like free wireless internet access. The staff of the hotel is likewise commendable. They always make themselves available whenever hotel guests need some advice and information about Rome and the tour itinerary. They are also at your service in terms of luggage concerns. The hotel also offers laundry or dry cleaning service, express check in/out services and safe deposit at the front desk.
Check prices and availability for hotel Hotel Albergo Abruzzi Rome
Address
Piazza della Rotonda n.69
00186 Rome, Italy
Sole al Pantheon
Sol al Pantheon is among the hoariest hotels in the world. It is said to be as old as the famous Piazza Navona. For those who are looking for a place away from the hustle and bustle of the city life, Sol al Pantheon is the perfect place for you. With Sol al Pantheon, you will definitely enjoy an intimate and exclusive place to relax while enjoying a stress-free and peaceful environment.
Each of the 32 rooms in the hotel is well decorated with functional and classic styles. They have Ariosto, Single comfort, double comfort, double superior, Mascagni, Suite Annex, Junior Suite and Frederick III rooms. Each room is well ventilated with air conditioning and heating system, a safety box, direct dial telephone line, satellite connected television set, hair dryer and a mini bar.
The hotel has 17th century inspired frescoes and terracotta floors. Guests may enjoy a buffet style breakfast in the indoor terrace which is beautifully ornamented with fresh and lovely flowers. They may also relax sitting at the garden with palm trees and floral plants. Visitors are provided with local or international newspaper every morning as well.
Check prices and availability for hotel Sole al Pantheon
Address
Piazza della Rotonda, 63
00186 Rome, Italy
Hotel Santa Maria
Hotel Santa Maria lives up to its appellation as a real oasis of serenity with affable staff. It is conveniently located at the convoluted jumble of lively streets in the center of Rome.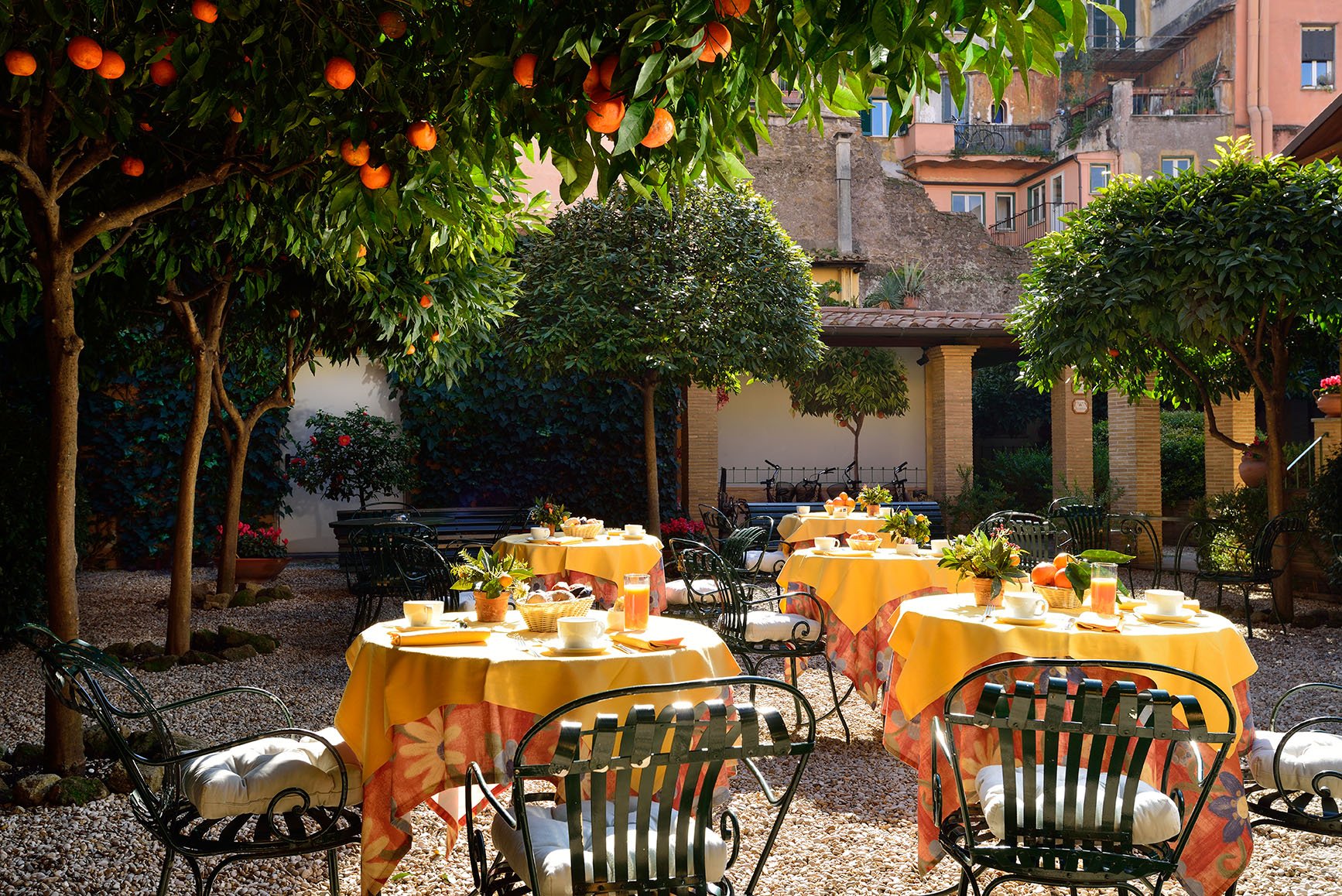 The hotel is perfect for couples who wish to spend an intimate time together. This one tier hotel is well known for its relaxing and romantic atmosphere. The garden at the exterior part of the hotel is a perfect place for enjoying a solemn morning and a great place for breakfast. The garden is fully embellished with orange trees, as well as with Mediterranean plants and flowers.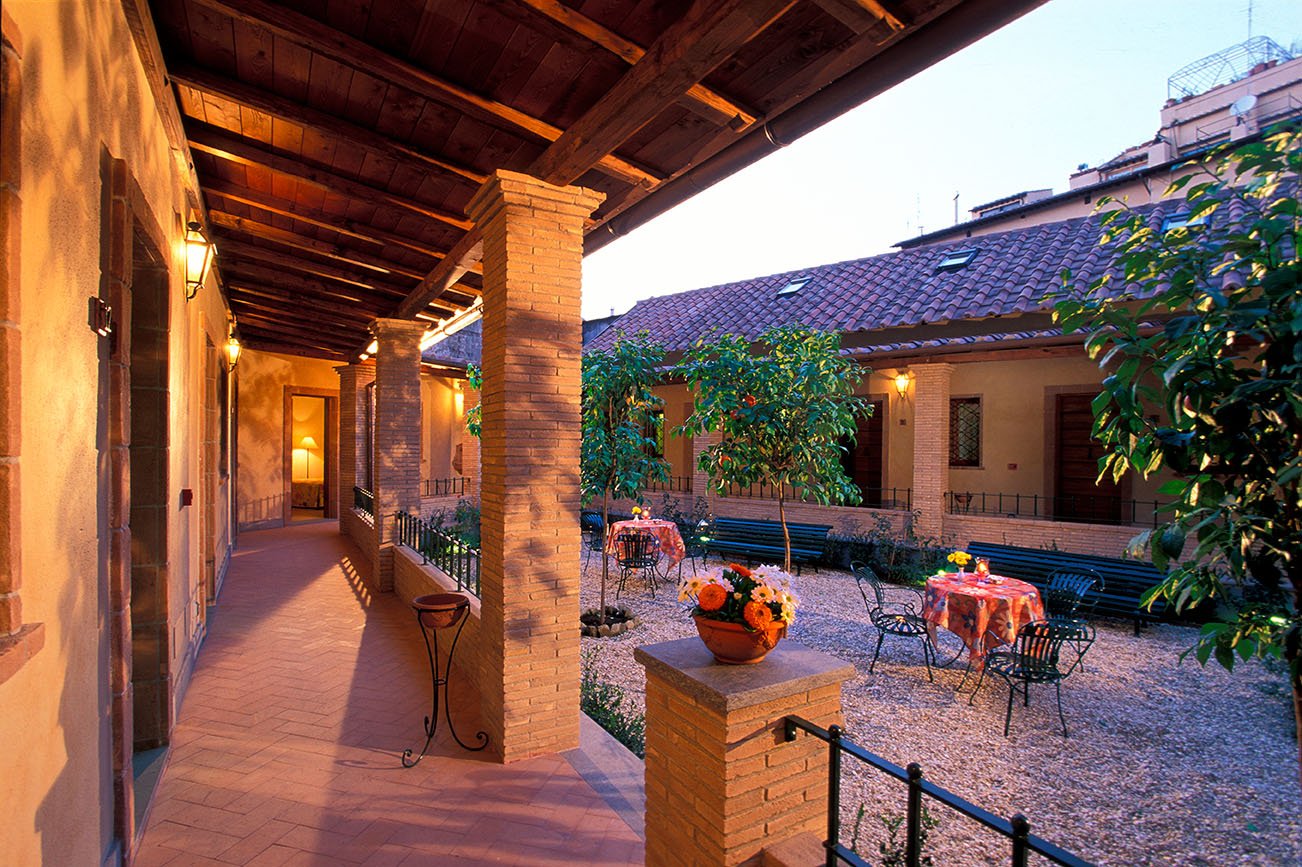 Hotel Santa Maria is just among the very few hotels in Rome that offers budget-friendly rates but with excellent service and accommodation. The rooms are just simple yet very clean and comfy. The hotel offers free internet access as well as free usage of internet connected computers at the Lounge Bar. There is likewise available parking area at the hotel's courtyard and at the garage area next to the hotel entrance for visitors who are travelling with their cars. The hotel also has a number of bicycles available for guests' who would like to cycle around the alleyway of the historic center of Rome.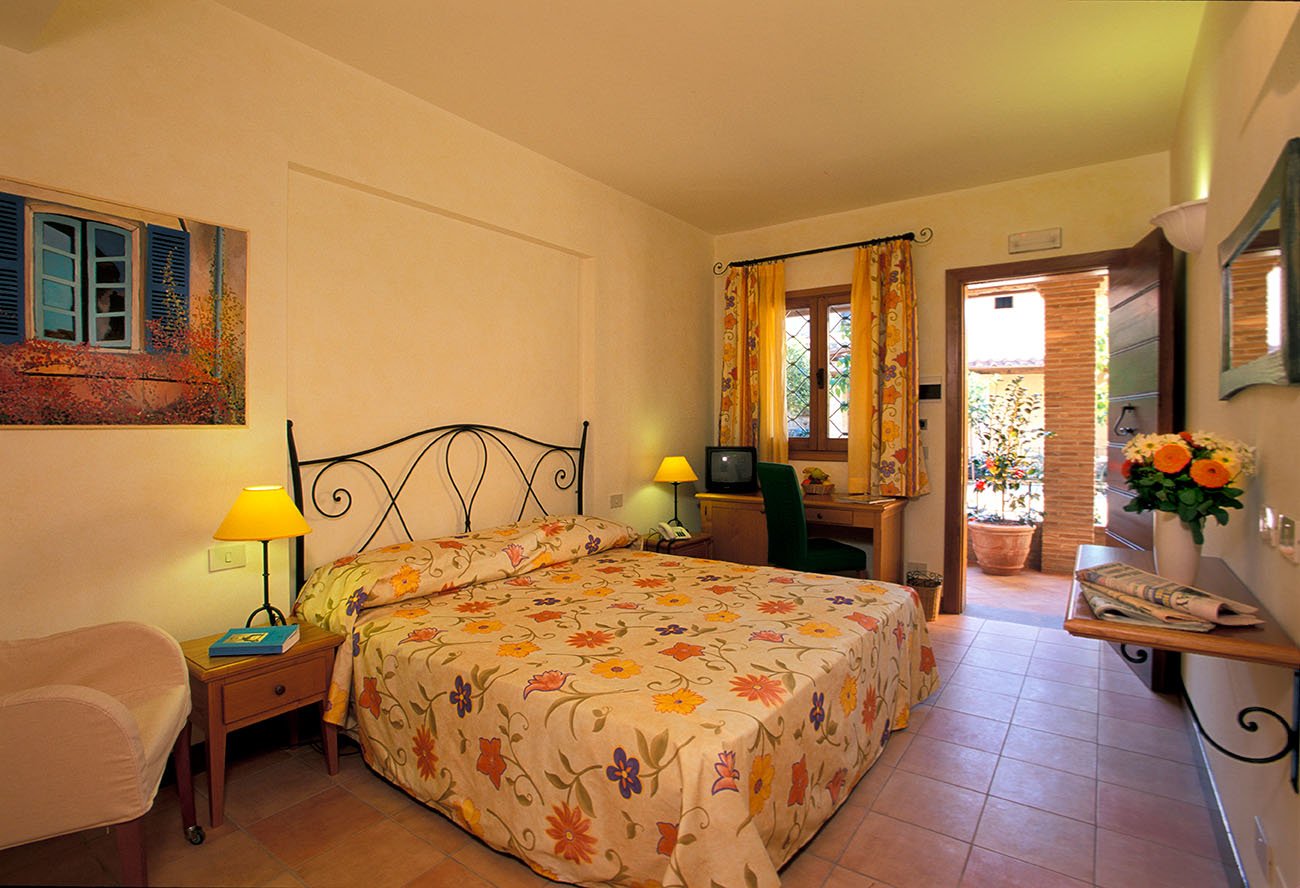 The hotel also offers additional services on cash basis such as laundry, shiatsu massage, hairdressing, facial and body treatment, baby-sitting, private Rome tour, transfer to and from the airport, limousine service as well as sightseeing tour around Rome and its neighborhood.
Check prices and availability for hotel Hotel Santa Maria
Address
Vicolo del Piede 2
00153 Rome, Italy
St. George Roma
St. George Roma is a five star luxury hotel that is ideally located in Rome's historic center. This boutique hotel is a perfect place to stay when planning to explore the beauty of the Eternal city right from the center. It is located just a few minutes away from Piazza Navona, the Pantheon, Castel Sant'Angelo, Campo dei Fiori and the Vatican.
The hotel has a total of 64 guest rooms comprising of Family Deluxe, Suites, Junior Suites, Deluxe and Classic rooms. Each of the guest rooms is well decorated with elegance and style. The hotel has a wine bar where guests are given the opportunity to enjoy and unwind while supping a goblet of sublime aged liqueur or perhaps of a glass any of the 120 labels of fine wine. There is likewise a library in the hotel where guests can pick a book of their choice to read and relax nearby the fireside.
This cozy hotel is also Wi-Fi connected all over the place, free cable and internet connection in every room. There is also a wellness area with a sauna, hydro massage tub, Turkish bath, gym and even personalized programs, all are designed for the satisfaction of their guests' needs and wants. The hotel also has a lounge exclusive for smoking purposes.
Check prices and availability for hotel St. George Roma
Address
Via Giulia, 62
00186 Rome, Italy
Hotel Teatro Pace
Hotel Teatro Pace is a three star hotel at the heart of Rome. This stylish Baroque-inspired hotel can be found in Rione Parione, one of Rome's most prestigious neighborhoods that is located a few footsteps away from Piazza Navona.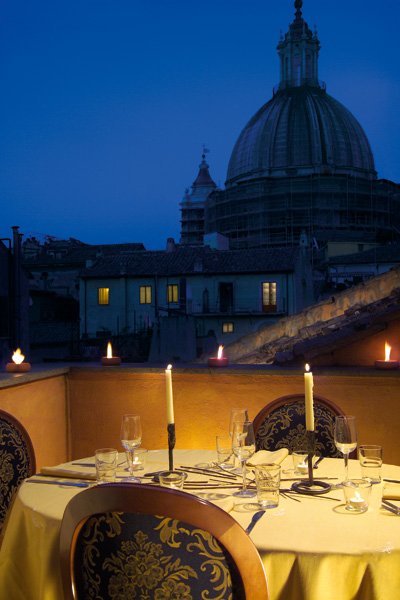 The hotel is composed of 23 guest rooms; all are fully furnished with elegant classical style. From the balcony or even from each room's window, guests will surely enjoy overlooking at the domes of the churches, roofs, courtyards and terraces embellished with beautiful flowers. You can enjoy the top view of the effervescent streets as well as the nostalgic mansions of ancient Rome.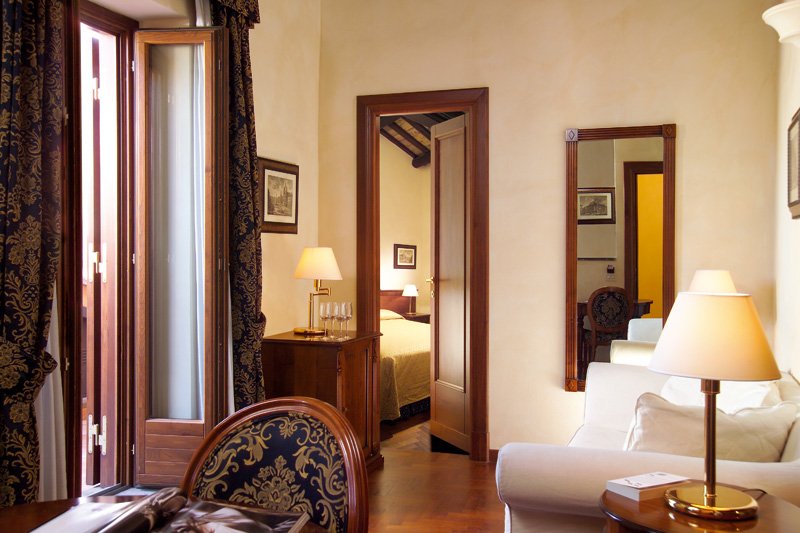 Each room is equipped with a mini bar, telephone, and a satellite television unit. All guests can likewise enjoy the free and fast Wi-Fi connection which can be accessed anywhere at the public areas. The hotel also offers room service breakfast for free.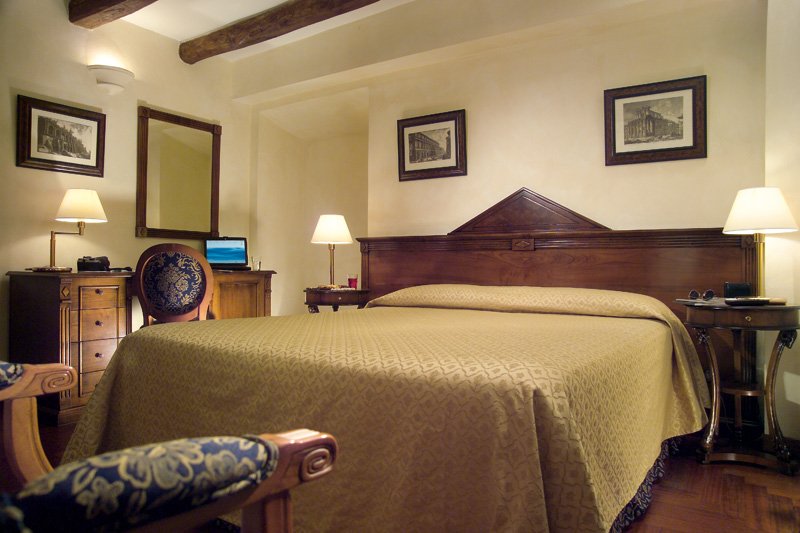 Check prices and availability for hotel Hotel Teatro Pace
Address
Via del Teatro Pace 33
00186 Rome, Italy
Also Interesting
Piazza Navona
Piazza Navona, a 15th century oblong square, is the remains of Circus Agonalis, a former sporting stadium built by Emperor Domitian in 86 BC. Read more......
The Pantheon
Built more than 1800 years ago, the splendid Pantheon still stands as an aide memoire of the grand Roman Empire. The original Pantheon was built in 27 BC. Read more......