Free E-book: Rome in a Weekend
Your personal travel guide to the incredible sights, sounds, walking routes, and cultural experiences of one of Europe's most historic cities
A question I often get asked is:
"What sights must you surely see if you only have just ONE weekend in Rome?"
Not an easy question to answer. You probably already have an idea that as the former center of the Western World, Rome is something special. It's a city brimming with history:
From the hundreds of churches and ancient era buildings, offering a window into the Empire's past
To the mouth watering smells of fine Italian dining, rich pizzas and layered lasagnas just the very beginning of a tourist's edible delights
To the friendly, romantic — and exceptionally joyous locales, always with a moment to spare to meet a new traveler.
Surely just ONE weekend can only be the start of a new adventure into Italy's finest city (if I do say so myself)!
Nevertheless, I did my best to answer this question for the tourist and weekend adventurer.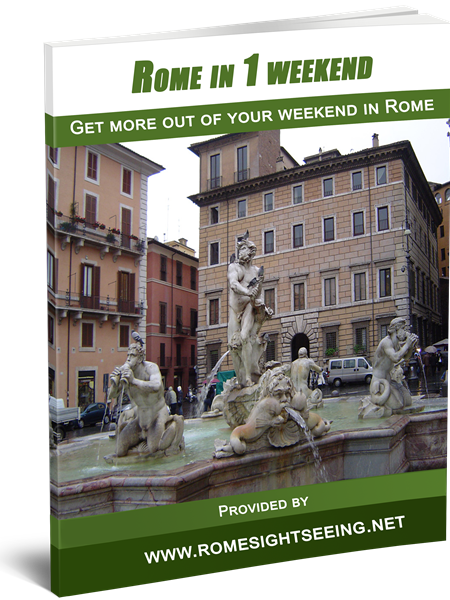 Rome in One Weekend is the result of my chiseling down process. Only the very best of Rome was allowed to stay in this short but highly detailed tour guide.
Rome in One Weekend is just 30 pages long, if you can believe it. I wanted to give you just enough to compel you out of your hotel room so that you could taste Italian cuisine first hand. Or see the museum that houses 20 centuries of incredible adventure under a single roof. And get the most out of each day using the perfectly planned walking routes.
No fluff in this guide, I simply didn't have the room. The guide features a "tour guide" like day to day plan, including walking routes between each sight to explore.
Rome in One Weekend also features special inside information and photos that only an experienced local like myself could truly offer. (Wait until you see what's REALLY behind some of the tourist attractions — you'll never see them the same again!)
And like a mouth watering lasagna, the guide is layered top to bottom with tips to get the most out of every minute of your journey throughout this enchanting city.
Is Rome in One Weekend a must read? Only if you want your perspective of Roman and Italian culture and history to be forever changed. Forever magnified and intensified so that your understanding matches the awe you experience firsthand during your weekend here.
It may only be a weekend, but the memories will last a lifetime. I want to give you this e-book for free. The only thing you have to do is click on one of the social share buttons below to receive your free guide for making the most out of your trip.
Unlock content with a social share.