Tours
POPULAR EXCURSIONS
Rome Tourist Card
Rome Tourist Card
Snap up the Rome Tourist Card and you'll get everything you need to explore Rome's top highlights including Colosseum, Palatine Hill, Roman Forum and Hop on/off bus. You can even choose the order you see things in.
Colosseum, Roman Forum & Palatine Hill: Priority Entrance
Colosseum, Roman Forum & Palatine Hill: Priority Entrance
Skip the long lines at the Colosseum with this priority-entrance ticket. This ticket will let you bypass the crowds. And after exploring the Colosseum you can head to the area of the Roman Forum and the Palatine Hill.
Vatican Museums & Sistine Chapel: Skip The Line
Vatican Museums & Sistine Chapel: Skip The Line
This ticket will make you save stress and time by allowing you to get priority entrance and skip the line. Visit the the countless masterpieces by Michelangelo, Raphael, Caravaggio, Tiziano and the Sistine chapel.
Borghese Gallery: Fast Track
Borghese Gallery: Fast Track
Galleria Borghese is located in the villa of the park Villa Borghese. Admire the architecture and furnishings of this beautiful villa. It is a museum full of art from the Renaissance. The collection includes several sculptures and paintings. Because of limited capacity get tickets for this museum weeks in advance.
St. Peter's Basilica: Dome Climb with Guide
St. Peter's Basilica: Dome Climb with Guide
Get the most out of your visit to St. Peters with a guided tour to climb the basilica's dome designed by Michelangelo and admire one of the stunning view. After the tour, you can explore the the basilica at your own pace.
More excursions & tours
Traveling to Rome with Kids
Is Rome a suitable holiday destination for children and teenagers? The answer is yes. A vacation in Rome will be something that they will never forget. There are many fun things to do, and those experiences will remain in their memories forever. Rome has so much to offer. In this article we are going to suggest you the best spots and entertainment locations: not necessarily culture-related experiences, but places that your kids will definitely have a blast visiting. You can mix your museum and sightseeing experiences with plenty of other interesting destinations. Rome has definitely something for everyone.
Together with my husband, we have been to Rome several times. It's nice to have a break just the two of us, but during the holiday we miss the children. That's why they came with us on our last two trips. The first time, they were six and three, and the second time they were seven and four. And, looking at how happy they were during the whole time in Rome, I can tell that their holiday was certainly as nice as ours.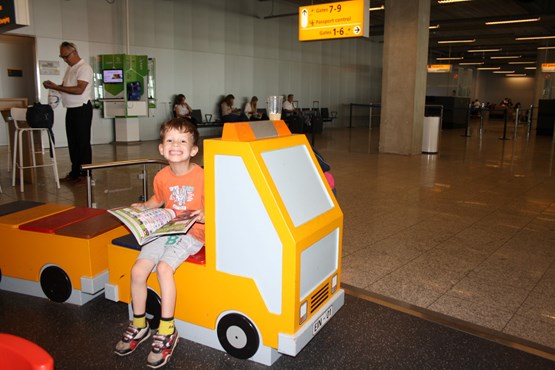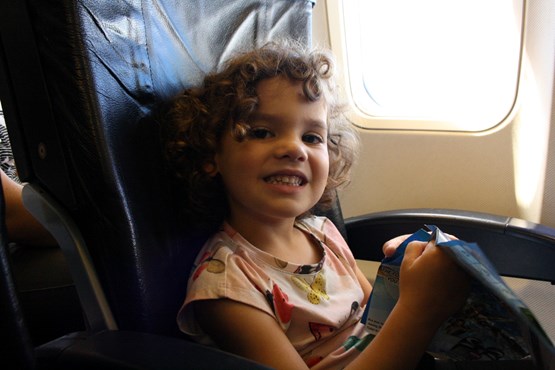 Rome With Kids: Ideas and Suggestions
Once you arrive in Rome, the question is: "What activities can we do with our children?" The good news is that Rome is a City that has much to offer. It's actually the ideal city to mix culture and entertainment. For a start, you should consider buying a metro pass to avoid having to walk around too much. You may not want your kids to get tired and be in a bad mood by the time you get to a place where they should be having fun! 
Most museums are usually fun and interesting for children, but after an hour or so, you may expect them to become a little restless, especially if they don't get the chance to run around a bit. They will be able to enjoy a full afternoon at the museum when they reach the age of ten, approximately. Some museums have dedicated audio guides designed for a young audience.
You can also choose an amusement park, as they are usually easily accessible from the city center with a shuttle bus. Excursions may be a nice alternative. If you are looking for a group activity, excursions might actually be a good idea to explore the surroundings of the city and at the same time have the kids entertained. 
Gladiator School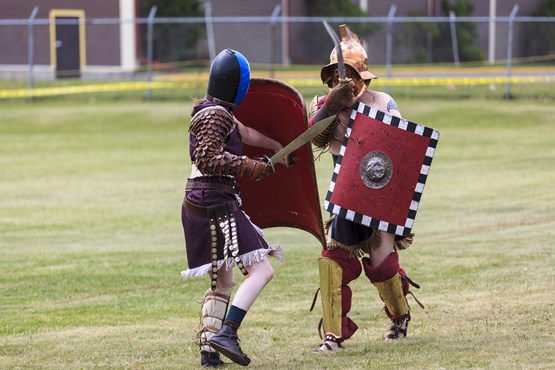 Learn to fight like a gladiator at Rome's Gladiator School. Traditional clothing is provided, together with practical and fun classes that will teach the kids the ancient fighting techniques. At the end of the practice, the participants can also join a tournament. Plus, you can also visit the gladiators museum. This activity is suitable for children from 6 years and up.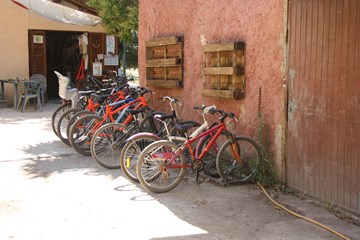 Bike tour
Do you like cycling, and you are wondering if you can do it with your children in Rome? The answer is yes. You can rent a bike in different spots of the city. It also possible to join a guided bicycle tour, together with a group. Bike rentals have bicycles in different sizes and models, also for children. If your child can't go on a bike yet, or he/she is simply too young to cycle for long distances? You can rent a child seat, which is suitable for children up to 20 kg. 
Museums
Are museums boring for children? Not if you choose wisely which museum is best to visit while in Rome. Follow our suggestions, and you will discover an amazing array of museums that are very interesting and entertaining for kids, as well as for you!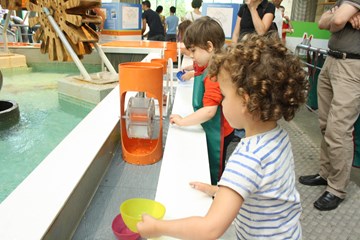 Explora Child Museum and Technotown Museum
This museum was, as suggested by the name, especially created for kids. Here, each child can discover the world through play and practical activities. There are various departments, aimed at different age groups. This way, the museum can be fun and interesting both for little children and also for the older ones. In a playful way, kids are introduced to science, new technologies, economy and much more. Read more...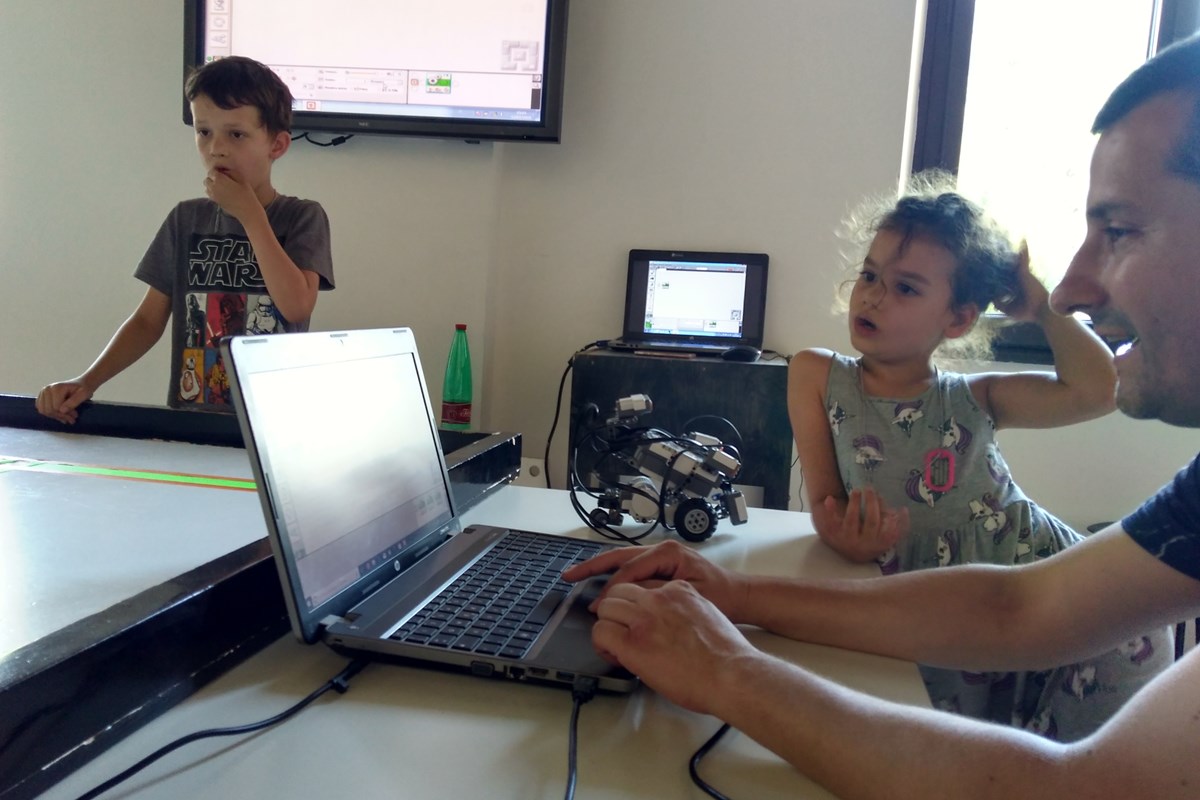 Technotown
Technotown is the city of engineering and science. The activities, workshops and the emulation games in this museum will teach kids valuable information and keep them entertained for the entire day. For example, LEGO WeDo is a popular workshop, where children learn to program a robot so that it can drive around various obstacles. The staff is English speaking. At the desk, you can ask for the workshop available during the day of your visit.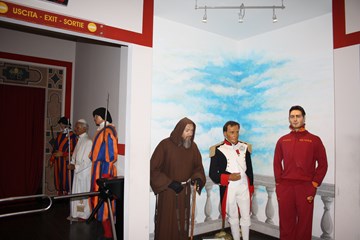 Museo delle Cere
You could also take them to the "Museo delle Cere". They have over 250 figures of celebrities and historical figures. They are the third largest wax museum in the world. They even have a laboratory that allow visitors to see how they create their waxworks. Read more ...
Amusement parks
During your vacation in Rome, you are probably looking for culture, history and art. Wherever you look, there's a monument or a famous landmark. For children, it is important to plan both cultural and fun activities. Amusement parks can really make a difference. Fortunately, in Rome there are plenty of state-of-the-art amusement parks, both in the city center and in its surroundings. Below, is our special selection, which we are sure your kids will love. 
Cinecittà World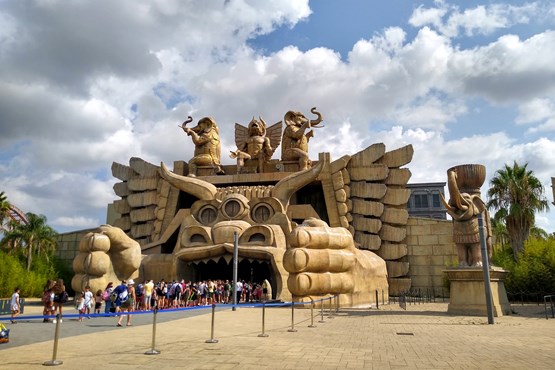 Fancy to live an immersive experience in the amazing world of the film making industry? This park is divided into different themed areas, to show you the various aspects of the fascinating world of movies. You can find yourself in ancient Rome, explore a futuristic set, or walk into the old wild west. In addition to the attractions, you will also enjoy live shows. During the summer, the kids will love a refreshing dip in the outdoor swimming pool. Cinecittà World is very close to a large shopping center. Read more...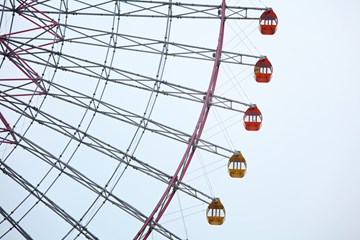 LunEUR
LunEUR is Rome's larget and oldest amusement park. The park was built back in 1953 and it is named after the EUR district, in which the amusement park is located. Recently, the park has been closed for major renovation. It opened its doors again in 2016. The park features more than 20 fun attractions. The symbol of the park is the colored and high Ferris wheel. After the recent makeover, the new LunEUR park has been especially designed for kids between 3 and 12.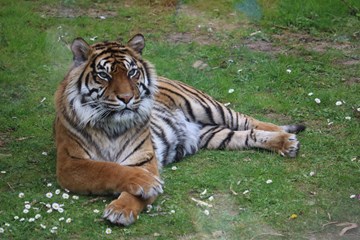 Bioparco Zoo
Are your kids fond of animals? Then take them to visit the Bioparco zoo in Rome. This large park is 42 hectares in size and features more than 1100 animals, belonging to 200 different species. The attraction is surrounded by nature, and located on a portion of the famous Villa Borghese estate, in the center of Rome. Don't feel like walking around? You can take a convenient train, and visit the main spots. There is also an area especially dedicated to reptiles. Plues, there is a plyground with obstacles, slides and swings, and plenty of resting areas. Read more…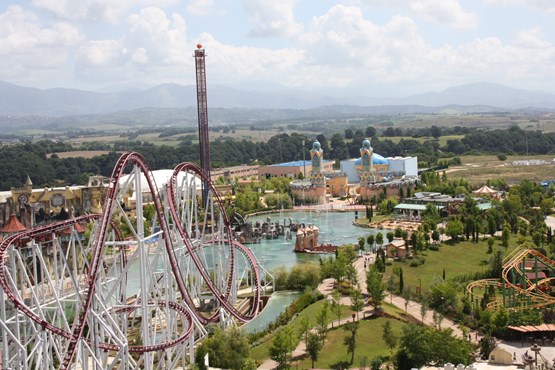 For a real entertaining experience, you can take your kids to Rainbow Magicland. This theme park has a wide variety of amazing attractions for all ages. For example, the older kids will love the insane Shock, a rollercoaster that will throw you to the top of the attraction with a turbo speed climb, then a huge drop, to finish up in a twisted loop that you will never forget. Definitely an adrenaline packed destination, located in the area of Valmontone, just outside Rome. Read more...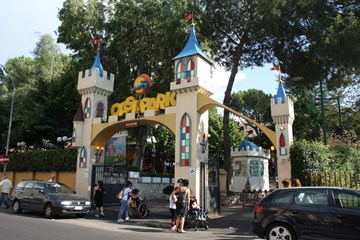 Oasi Park
Oasi Park is a small amusement park in Rome. This park features a number of fun attractions, which will for sure appeal to young children. Oasi Park it's more like a permanent fairground. You don't pay to enter the park, but you are charged for each attraction. The park is located just outside the city center, and easily accessible by public transport.
Swimming Pools
Nothing is nicer than cooling down during a hot summer day! Here's our selection of water parks and pools in Rome for you and your kids to enjoy.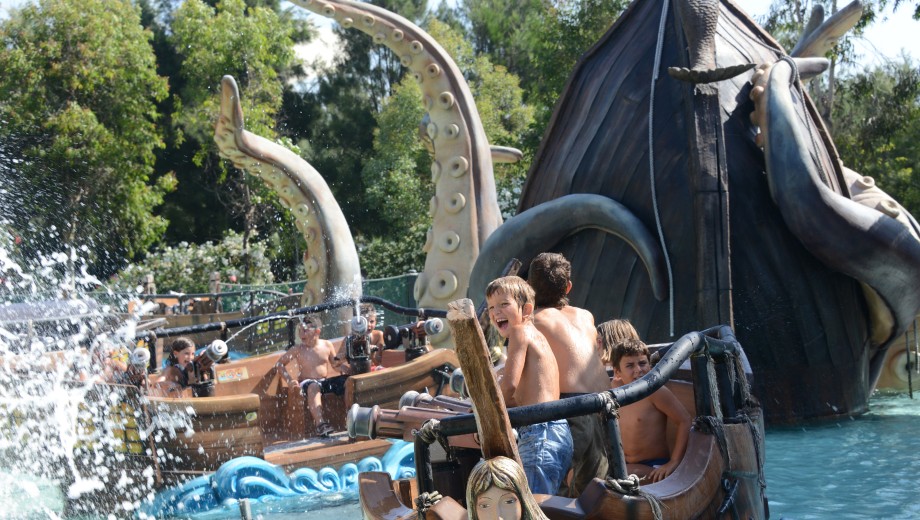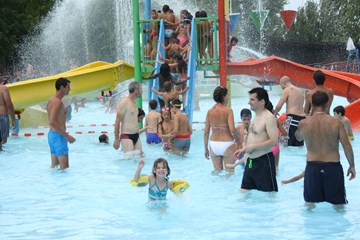 Zoomarine is not only a water park, but also an amusement park and animal park. Next to the pools, you can enjoy various shows with animals, such as dolphins. You can try the exciting rollercoaster, or cool off in a relaxing water attraction. The park has all the right features to offer you the best in entertainment. To make this successful day trip a reality, you can easily get to the park via a shuttle bus from the center of Rome. Read more...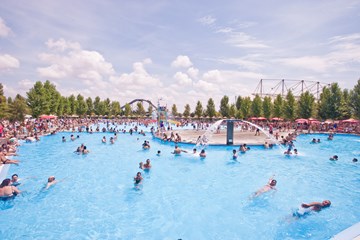 Hydromania
Hydromania is quite close to the city center and easily accessible by public transport. It's ideal if you want to have a fun and refreshing day out with the kids. The park features several swimming pools and water attractions, and it is suitable for the whole family. Those who don't fancy a swim, can also sunbathe on the park's equipped beach or play a game of beach volley. Read more ...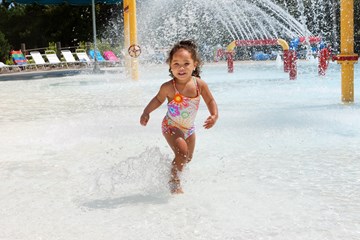 Aquafelix
Aquafelix is known to be the largest water park in central Italy. It is located close to the town of Civitavecchia, near Rome, and surrounded by nature. Especially for those who are planning to explore the Eternal city and its surroundings with a rent car, it is a destination definitely worth a visit. The water park features several pools, water slides and fun-paked water attractions for the whole family. Aquafelix has its own activities team and also a in-house pizzeria. Read more…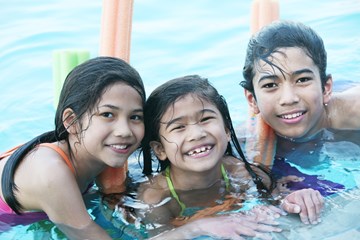 All'Ombra del Colosseo (In The Shadow of The Colosseum)
The complex called  "All'Ombra del Colosseo" is located just behind the Colosseum, in the Celio Hill park (Parco del Celio). During the summer, there is an outdoor swimming pool. Plus, here you can find several cafes, restaurant and a rich program of live music. The swimming pool is open from the end of June until the beginning of September. The entrance is on Via di San Gregorio street.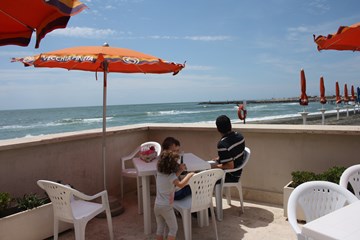 Ostia
If you want to spend a day out on the beach, swimming in the warm Mediterranean waters and sunbathing, then you can take the metro and then the direct train to the town of Ostia. Firstly, reach the metro stop Piramide (Line B). The Porta San Paolo Train Staion is just opposite the stop exit. Take the train towards C. Colombo. The train ride is just 30 minutes and there are several train stops, but the Lido Centro is the most convenient to reach the beach.  Please note the the majority of beaches in Italy require a payment, as they are equipped with sun-beds, sunshades, showers and other services. You can also hang out on the beach resort terrace, and enjoy the view, together with a drink and a snack. 
More Ideas
Rome is a fun destination, not only for adults, but also for children. Above, we have given you some suggestions for museums, theme parks and swimming pools. Read more tips below.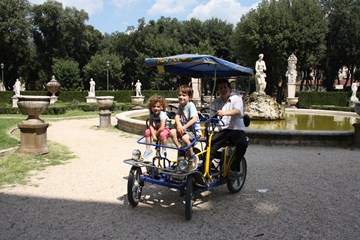 Villa Borghese Park
The Villa Borghese park is a large estate located in the center of Rome. There are several entrances, from Piazza del Popolo, the Zoo, or even the top of Via Veneto. There are several museums in this park, including the famous Borghese Gallery, where you can admire amazing paintings and sculptures. This park is not just great for adults looking to escape the hustle and bustle of the city for a few hours, but it's definitely a great park for kids. They can run around and play football (if you bring a ball with you!) You can also rent a bicycle cart, and drive around with your kids in the front seats. There are also kiosks with attractions and a nice pond with a temple island in the middle, where you can rent a boat and row around the small lake. Read more…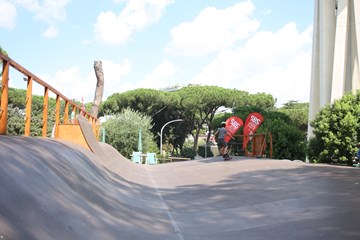 EUR Park
The EUR park is located in the new EUR district, and it consists in two distinct amusement  areas next to each other. You can visit both parks or choose one of the two. In the area called Adventure Park you can choose between seven different climbing routes between the trees. In the Energy Park you can ride a mountain bik, a skateboard or enjoy a laser game.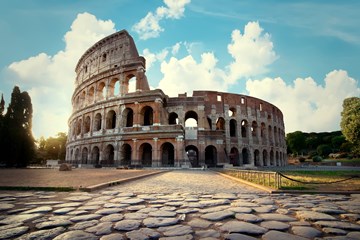 Time Elevator
Being able to travel through time is every child's dream, but a fun experience also for the parents! The Time Elevator is a 5D cinema immersive show, complete with moving seats and personal headset, that will allow you to take an exciting journey through time. You will travel back to the eight century BC, when Rome was founded, and then fast forward to the Empire age. This engagin travel experience will also allow you to meet emperors, such as Nero and artists such as Leonardo Da Vinci.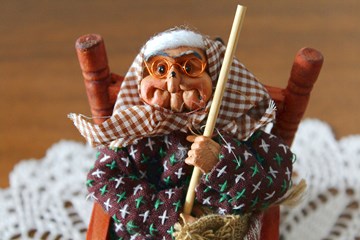 The "Befana" Feast (the Feast of Epiphany)
The 6th of January is a day the Italian children look forward to. On this day, the feast of the Befana is celebrated. If you are in Rome around this date, you'll be able to get advantage of it. In markets around the city center (there's a famous one in Piazza Navona), there are many sweets and gifts for kids on sale. The feast of the Befana is a real children's party. According to tradition, the old lady called Befana flies (riding her broom) all over Italy during the night between the 5th and the 6th of January, to bring a present or a sweet treat to all the good children. Have you been a naughty boy? Then expect only coal. But wait, you can also find a special delicious sweet "coal" on sale!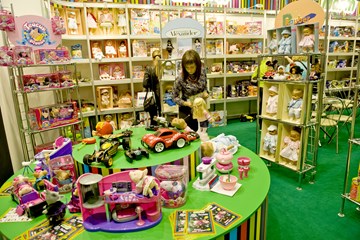 Toy Shops
As well as a city rich in history, art and culture, Rome also offers you a great shopping experience. There are several shopping streets in the city center, plus a number of large shopping malls. If fashion is one of the adults favorite, Rome is home to a great selection of toy shops, selling high quality products. Among the well-known stores, we suggest to look for Little Big Town (near Piazza Venezia), Al Sogno (on the corner with Piazza Navona, selling mostly traditional toys), and La Città del Sole (Trastevere district). Your kids will love browsing through the colored toys on display, but if you are willing to buy something for them, keep in mind that those products may be a little expensive, especially if they are hand made or crafted with wood. 
Hotels and Accommodation
When you travel to Rome with children, you are certainly looking for a family friendly accommodation solution. When the kids grow up enough, they can be in their own hotel room, but this is not the case with younger children. That's why you have to find a hotel that has the availability of a family room.
The other option is to book an apartment. This type of accommodation offers you the comfort of having your own kitchen, living room, bathroom and separate bedrooms. There is plenty of choice of holiday apartments within walking distance from the city center. 
There is a good choice of nice and affordable hotels and apartments in Rome that are great for families. Below, there are some suggestions.
Donna Lavinia (Cinecittà)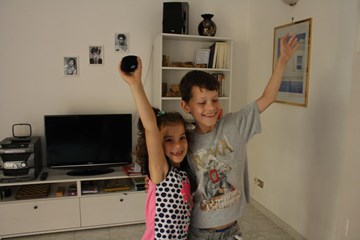 This apartment complex is situated near the Appia Antica park and the Cinecittà studio's. You can reach Donna Lavinia with the subway, as the apartments are just a few steps away from the metro stop Lucio Sestio (Line A). The apartments feature two bedrooms: a double bedroom and a room with two single beds. In the living room, there is also a sofa bed. Plus, there is a fully equipped kitchen and one bathroom. The apartment has free Wi-Fi. In the morning, a buffet breakfast is served. More information…
All Comfort Astoria Palace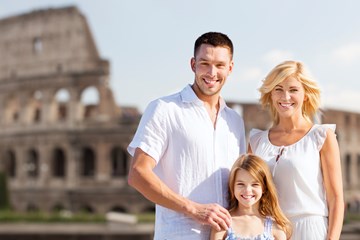 This hotel is located in the central Castro Pretorio district, at walking distance from the metro stop Policlinico (Line B). It features several family rooms with a double bed and single beds. Each room has its own bathroom, a flat screen TV, safe and Wi-Fi. More information…
Sunshine Rooms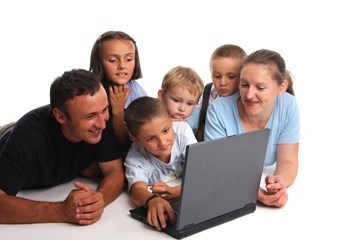 This hotel is near the Termini Central Station and the metro stop called Vittorio Emanuele (Line A). All rooms have a private bathroom, Wi-Fi, flat-screen TV, safe, desk, boiler and fridge. Guests can have access to a convenient public car park at close distance. This hotel has several family rooms for 3 to 5 people. More information…
Tips for Your Flight
Many parents are concerned about the long travel times to get to their destination. The most common question is: how do I keep them entertained on the plane and during waiting times in the airport? It's actually easier than it looks. All you need is a bit of preparation and the will to get them involved in the whole travel experience.
With most airlines, each passenger can bring one hand baggage on the plane. Always check the exact dimensions on the website of the airline you are traveling with. Children do not need as much luggage as adults. We have noticed that it's sufficient to carry a single hand luggage for both of them. Especially during the summer, it's more than enough space for their clothes and accessories. This way, you'll have a bag left, that you can fill with their favorite toy, coloring books and pencils, reading books. Usually, the bag is not used during travel, but will be of great assistance once you get to your destination, while you have to spend some time in your hotel room.
On the plane, there's nothing better than looking out of the window, letting them take pictures at the clouds, and guessing what they look like.
You might also like