Baths of Caracalla
The Baths of Caracalla are the second largest in Rome. Before, the baths of Caracalla consist of private baths and bath houses for the public. These baths were accessible to all poor, rich, male, female, young, and adult. They were not only used for bathing. The place has also a conference hall with libraries, shops, offices, gardens, terraces, reception rooms, dressing rooms, warm rooms, sweat rooms and massage rooms.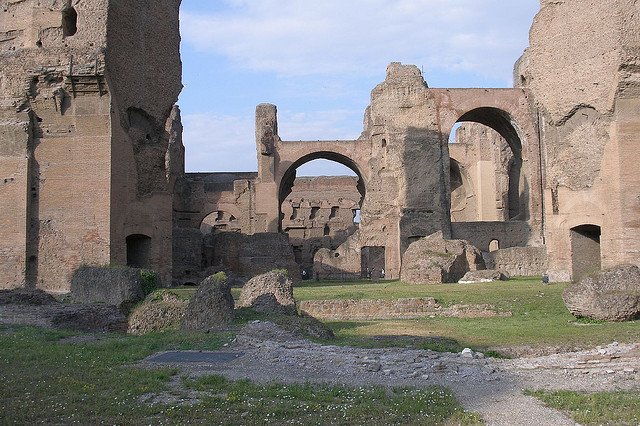 Picture taken by Vyacheslav Argenberg
Emperor Septimius commissioned the construction of the Baths of Caracalla. The completion of the construction was not realized during his reign. After Emperor Septimius' death, his son took over the supervision of the building's construction. There were 216 baths finished and was named as Thermae Antoninianae. Over the years, its name was changed to Baths of Caracalla.
The Baths of Caracalla was a large complex with an area of 120,000 square meters and it can accommodate 1600 guests. It was built with red bricks and was richly decorated with beautiful frescoes and mosaics. The least two thirds of the floor were covered with floor mosaics and one of the best mosaics was the colorful athlete mosaic. This mosaic was displayed in the Vatican Museum. Besides the frescoes and mosaics used to adorn the Baths of Caracalla, there were the artistic sculptures. Due to the location of the building and complex dimension, there was no longer space to expand the Baths of Caracalla.
The water supply came from the aqueduct Maricia, which is located on the side of the spa. When the aqueduct was destroyed, the Baths of Caracalla could no longer be used. Thus, it fell into a poor condition. Today, there is only a ruin complex that serves as a shadow of the large bathhouse that it once was.
Aside from being a tourist attraction, the Baths of Caracalla also showcases a backdrop and a stage for opera and ballet performances. Performances can be witnessed during the months of July and August in the open air. The Teatro dell'Opera di Roma are the organizers of the presentations.
The baths of Caracalla is situated at ViadelleTerme di Caracalla 52.
Visiting hours
The Baths of Caracalla is open daily from 9 am to 1 pm.
Also Interesting
Neighborhoods in Rome
Rome's entire neighborhood has a sum total of 18 districts. The historical centre, which is roughly just four percent of the area of the entire city.Read more......