Tours
POPULAR EXCURSIONS
Rome Tourist Card
Rome Tourist Card
Snap up the Rome Tourist Card and you'll get everything you need to explore Rome's top highlights including Colosseum, Palatine Hill, Roman Forum and Hop on/off bus. You can even choose the order you see things in.
Colosseum, Roman Forum & Palatine Hill: Priority Entrance
Colosseum, Roman Forum & Palatine Hill: Priority Entrance
Skip the long lines at the Colosseum with this priority-entrance ticket. This ticket will let you bypass the crowds. And after exploring the Colosseum you can head to the area of the Roman Forum and the Palatine Hill.
Vatican Museums & Sistine Chapel: Skip The Line
Vatican Museums & Sistine Chapel: Skip The Line
This ticket will make you save stress and time by allowing you to get priority entrance and skip the line. Visit the the countless masterpieces by Michelangelo, Raphael, Caravaggio, Tiziano and the Sistine chapel.
Borghese Gallery: Fast Track
Borghese Gallery: Fast Track
Galleria Borghese is located in the villa of the park Villa Borghese. Admire the architecture and furnishings of this beautiful villa. It is a museum full of art from the Renaissance. The collection includes several sculptures and paintings. Because of limited capacity get tickets for this museum weeks in advance.
St. Peter's Basilica: Dome Climb with Guide
St. Peter's Basilica: Dome Climb with Guide
Get the most out of your visit to St. Peters with a guided tour to climb the basilica's dome designed by Michelangelo and admire one of the stunning view. After the tour, you can explore the the basilica at your own pace.
More excursions & tours
Public Transport in Rome
No matter how much you want to, you cannot simply walk throughout Rome without having any means of transportation. While it is true that the city of Rome is a one big museum in itself, you still need some vehicle to travel, unless you wanna carry your one week worth of luggage from the airport to your hotel room. Just kidding. Still, the distances between some landmarks to others are not exactly proper walking distance. The good news is that Rome provides you with tons of choices on how to enjoy your trip.
Rome, like any other big city, has metros, busses, trams and taxis for public transportation. Different people prefer different modes of transport. Each one has its advantages and disadvantages as well.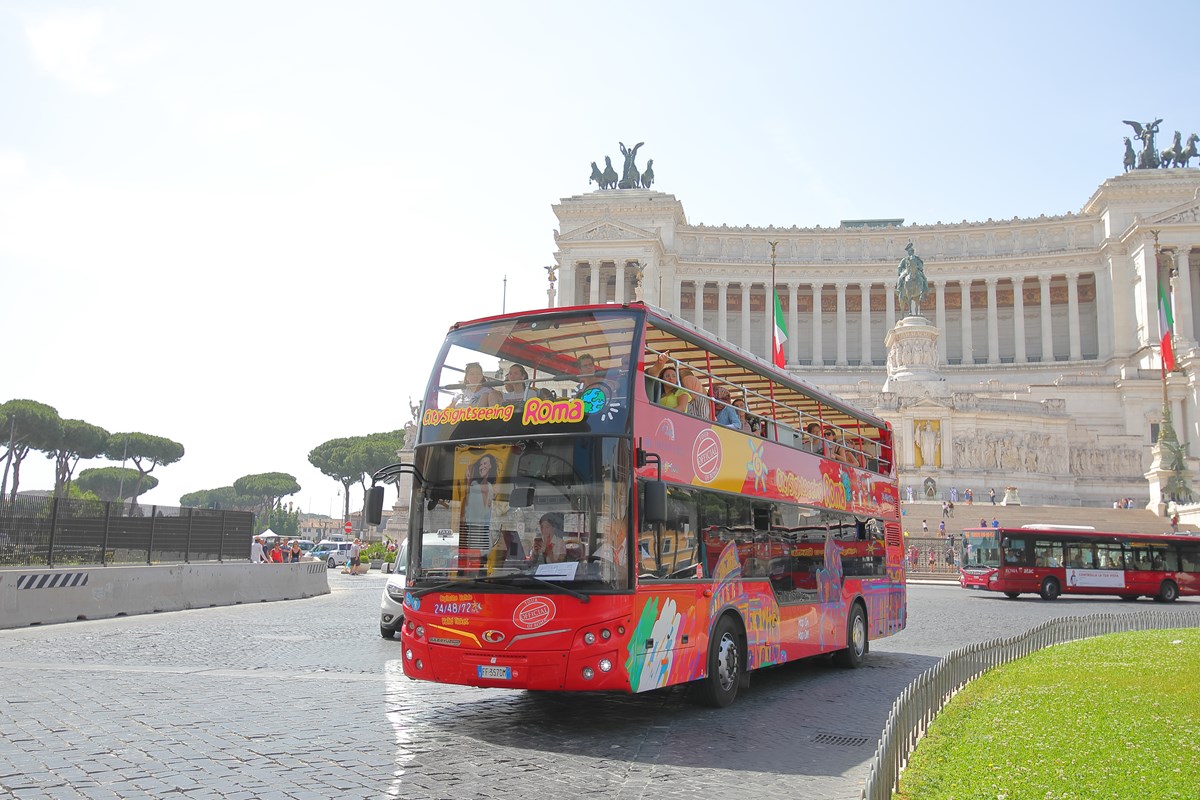 For instance, the subway or metro has a train that leaves the station every five minutes. What's good about it is that you don't have to wait too long and plus, you get to your destination faster. However, metros can get very busy: in fact they often do. It also stops at stations which may not be exactly what you want.
As for bus rides, it has more stops than the metros have. It drops you off at major tourist destinations making it an easy way to travel from one landmark to another.
Taxis are the most comfortable means to travel Rome, however it's more expensive than the metro or bus. Good thing is that you get the car to yourself, so you can make it stop anywhere and anytime you like. Just in case you pass by souvenir shop and want to check it out, you can simply ask the taxi driver to do so because you won't be disturbing any other passengers anyway.
Majority of the public transports in Rome is run by ATAC (Azienda per la mobilita.) The rest is managed by COTRAL (Compagnia Trasporti Laziali.)
For more information about how you can get through the streets of Rome and other things about public transport in Rome, visit their websites.
TIP: You can buy public transportation tickets in either a tobacco shops or a ticket kiosk. You can even choose from the four different cards.
BIT – ticket valid for one metro ride or 75 minutes of bus ride, costs €1 ($1.30)
BIG – ticket valid all day on all (*) types of transport in Rome, costs €4 ($5.25)
BTI – ticket valid for three days on all (*) types of transport in Rome, costs €11 ($14.35)
CIS – card valid for a whole week on all (*) types of transport in Rome, costs €16 ($21)
* – Except the Fiuimicino airport and the Tivoli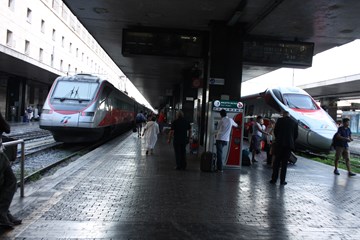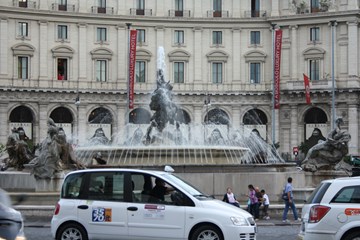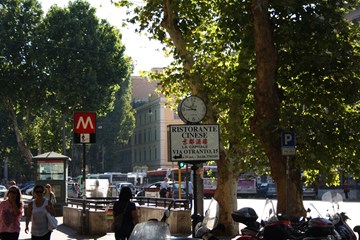 Rome has two main metro lines that go around, rather than through, the historic city. However, there is one special line that runs from the Fiumicino Airport going to the Termini Central Station where you can ride in any of the two train lines… Read more…
There are several bus routes in Rome. Most depart and arrive at the Termini Central Station. Daytime buses run from 6:00 AM to 12 Midnight. Between, 12:30 AM to 5:30 AM, night buses are available too… Read more…
Running from 5:30 Am to 12:00 Midnight, trams in Rome are the largest in Italy. However, many of the routes today are replaced by buses. There are six tram lines running in Rome to date… Read more…
For those who do not like to travel in crowds, you can opt to travel comfortably via taxi. It is not advisable to hold taxis in the streets for too long. The streets are so busy that most will just keep on going. There are lots of taxi ranks in Rome… Read more…
You might also like