Tours
POPULAR EXCURSIONS
Rome Tourist Card
Rome Tourist Card
Snap up the Rome Tourist Card and you'll get everything you need to explore Rome's top highlights including Colosseum, Palatine Hill, Roman Forum and Hop on/off bus. You can even choose the order you see things in.
Colosseum, Roman Forum & Palatine Hill: Priority Entrance
Colosseum, Roman Forum & Palatine Hill: Priority Entrance
Skip the long lines at the Colosseum with this priority-entrance ticket. This ticket will let you bypass the crowds. And after exploring the Colosseum you can head to the area of the Roman Forum and the Palatine Hill.
Vatican Museums & Sistine Chapel: Skip The Line
Vatican Museums & Sistine Chapel: Skip The Line
This ticket will make you save stress and time by allowing you to get priority entrance and skip the line. Visit the the countless masterpieces by Michelangelo, Raphael, Caravaggio, Tiziano and the Sistine chapel.
Borghese Gallery: Fast Track
Borghese Gallery: Fast Track
Galleria Borghese is located in the villa of the park Villa Borghese. Admire the architecture and furnishings of this beautiful villa. It is a museum full of art from the Renaissance. The collection includes several sculptures and paintings. Because of limited capacity get tickets for this museum weeks in advance.
St. Peter's Basilica: Dome Climb with Guide
St. Peter's Basilica: Dome Climb with Guide
Get the most out of your visit to St. Peters with a guided tour to climb the basilica's dome designed by Michelangelo and admire one of the stunning view. After the tour, you can explore the the basilica at your own pace.
More excursions & tours
Camping Sites in Lago di Bracciano
Lago di Bracciano, also called Lake Bracciano, is the second largest and one of the major lakes in the region of Lazio in Italy. It is located just 32 kilometers northwest of the Eternal City. It has a volcanic origin and has a circular perimeter of around 32 kilometers.
Lake Bracciano is known as among the most interesting areas for camping near Rome. It is as well one of the top favorite destinations that tourists from various parts of the world want to visit. With the breathtaking view of nature and remarkable landscape around the lake added with its artistic and archeological richness as well as its cultural and historical heritage, holidaymakers will surely have a great time camping at any of the three towns located near Lake Bracciano. These towns are Bracciano, Anguillara Sabazia and Trevignano Romano.
Among the interesting sightseeing spots to visit in Lake Bracciano include:
Exquisite greenery that includes olive groves, forests, natural monuments and beautiful botanical gardens
Excellently conserved and intricately designed castle built by Napoleone Orsini in 1470 to 1485. The castle was once visited and was liked by famous personalities like Tom Cruise, John John Kennedy, Marcantonio Colonna, Katie Holmes, Pope Sixtus IV, Tina Turner and King Charles VIII of France.
Castel Giuliano and its hamlet- known as great representations of the 17th century's agricultural settlement.
Santa Maria Novella Church- one of the two baroque churches near Lake Bracciano
St. Stephen Church- a baroque basilica known for its bell tower built during the 16th century
Bagni di Vicarello neighborhood- In this neighborhood you can find a number of hot springs which are still currently active as well as some ruins of various Roma Villas and ancient spa.
Necropolis of Sabatia located near Olivetello in the charismatic town of Trevignano
And many more…
Camping Porticciolo
Camping Porticciolo is located 30 kilometers north of Rome. It offers not merely a wonderful feel of nature but also a relaxing atmosphere. The camping garden features a private beach, games and sanitary fittings for kids, volleyball court, soccer field, billiard and ping-pong tables, free wifi, shuttle service to the train station, bar-market and pizzeria.
Address:
Porticciolo s.n.c.,
00062 Bracciano, Italy
Camping Parco Del Lago
Camping Parco Del Lago is situated on the shores of the famous Lake Bracciano. It is a self-catering accommodation that offers a breathtaking view of the lake. It has a private beach where guests can enjoy playing some water sports like windsurfing and canoeing. There is also a bar and a restaurant within the vicinity of the camp site where home-cooked dishes and Lazio wine are served.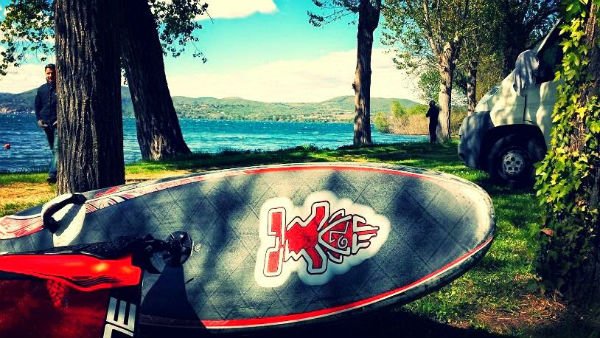 Guests can enjoy some organic vegetables harvested from the neighboring farms and fresh fish sourced directly from the lake. The place is also ideal for cycling and hiking activities as well as for horseback riding. There is also a designated area for playing table tennis and there's also a playground for children.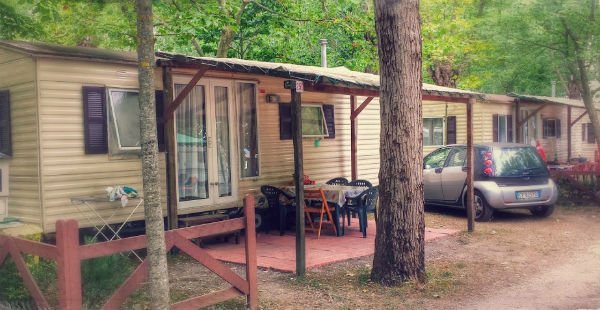 Among the accommodation choices that Parco Del Lago offers are mobile homes, caravans and bungalows. Each of these accommodation options includes towels and bed linen. Each is also designed with a dining area as well as a kitchenette and most have a private bathroom.
Address:
Via Lungolago Di Polline 75
00061 Anguillara Sabazia, Italy
Camping Village Internazionale Lago di Bracciano
Camping Village Internazionale Lago di Bracciano is located in the Regional Natural Park of Bracciano-Martignano just around 30 kilometers away from the historic center of Rome. It is well known for being one of the best camp sites in the region and for the impressive view of the sunset it offers.
It has pizzeria restaurant, snack bar, wine bar, swimming pool and its own private beach. Guests can choose to stay at any of the bungalows and mobile homes it offers. Each of the accommodation options has its own kitchenette added with fridge and kettle.
Among the interesting activities that the guests may enjoy in Camping Village Internazionale are fishing, cycling and hiking. The camp also features table tennis play area, golf course, children's playground, solarium, library and private beach.
Address:
Via Settevene Palo Km 7.400
00069 Trevignano Romano, Italy
Campeggio Smeraldo
Camping Smeraldo is another highly rated camp site near Lake Bracciano. It is known as a small greenery haven surrounded by wonderfully groomed hedges and trees. This camp site is ideal for both children and adults who want to enjoy the ambiance of nature and at the same time explore the historically rich city of Rome. It has a very easy access to the primary camping commodities like drinking water and electric supply.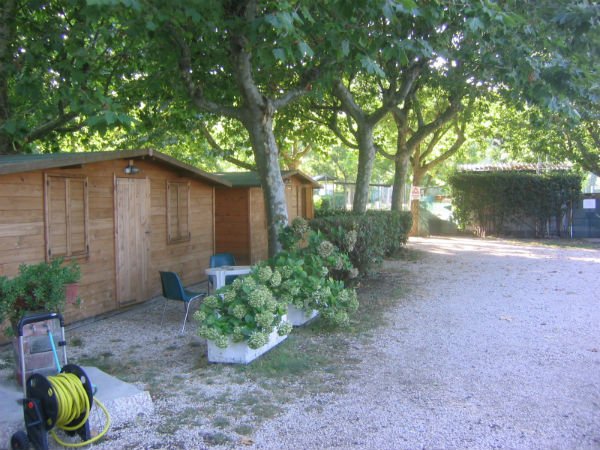 Camping Smeraldo can easily be reach from Rome. It is situated just about 30 minutes away from Rome's historic center. It has a bar, restaurant and convenience store available for the campers, all located just inside the site's vicinity.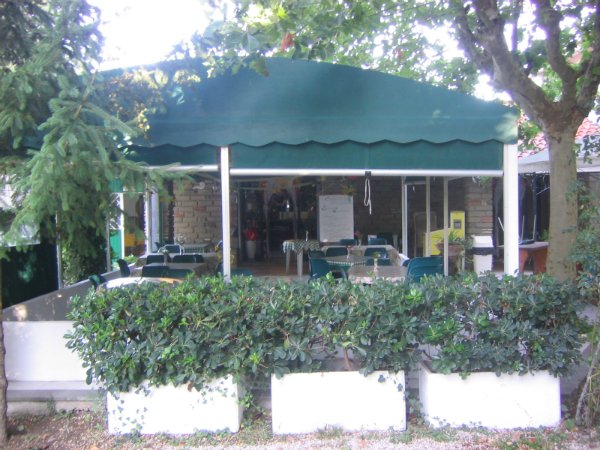 It offers mobile homes and bungalows. Guests who want to sleep and relax in a cool place on the bank of Lake Bracciano may choose to stay at the bungalow houses in Camping Smeraldo. Each of the charmingly erected wooden cottages are designed with 2 bedrooms and toilet. Its mobile homes are fully furnished and are designed with a bedroom that includes two blanketed beds, a toilet with hot shower and a living area that is already equipped with table, chairs, sofa, cooking utensils, crockery and refrigerator.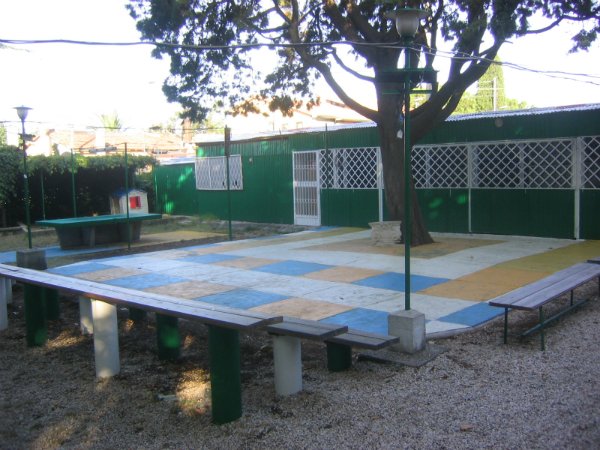 Address:
via dell'Acquarella, 13
00069 Trevignano, Italy
Camping Roma Flash
Camping Roma Flash is wonderfully located on the coasts of Lake Bracciano. It has an outdoor pool, a private beach, a restaurant and a free Wi-Fi connection. It offers self-catering mobile homes that come with a kitchenette, a private bathroom and an air conditioning unit.
Camping Roma Flash does not merely offer a cool and relaxing atmosphere but also a breathtaking view of the lake from each of the rooms. The camp site also offers entertainment club for children, a tennis court, amiable staff and a daily shuttle bus service to and from Rome.
Address:
Via Settevene Palo Km 19800
00062 Bracciano, Italy
You might also like