Tours
POPULAR EXCURSIONS
Rome Tourist Card
Rome Tourist Card
Snap up the Rome Tourist Card and you'll get everything you need to explore Rome's top highlights including Colosseum, Palatine Hill, Roman Forum and Hop on/off bus. You can even choose the order you see things in.
Colosseum, Roman Forum & Palatine Hill: Priority Entrance
Colosseum, Roman Forum & Palatine Hill: Priority Entrance
Skip the long lines at the Colosseum with this priority-entrance ticket. This ticket will let you bypass the crowds. And after exploring the Colosseum you can head to the area of the Roman Forum and the Palatine Hill.
Vatican Museums & Sistine Chapel: Skip The Line
Vatican Museums & Sistine Chapel: Skip The Line
This ticket will make you save stress and time by allowing you to get priority entrance and skip the line. Visit the the countless masterpieces by Michelangelo, Raphael, Caravaggio, Tiziano and the Sistine chapel.
Borghese Gallery: Fast Track
Borghese Gallery: Fast Track
Galleria Borghese is located in the villa of the park Villa Borghese. Admire the architecture and furnishings of this beautiful villa. It is a museum full of art from the Renaissance. The collection includes several sculptures and paintings. Because of limited capacity get tickets for this museum weeks in advance.
St. Peter's Basilica: Dome Climb with Guide
St. Peter's Basilica: Dome Climb with Guide
Get the most out of your visit to St. Peters with a guided tour to climb the basilica's dome designed by Michelangelo and admire one of the stunning view. After the tour, you can explore the the basilica at your own pace.
More excursions & tours
Museo delle Cere (Wax Museum)
Museo delle Cere or the wax museum Rome is the only one of its kind in Italy. It was founded in 1958 by Fernando Canini, a circus entrepreneur who saw Europe's great wax museums while on tour. Canini became fascinated with the wax figures and decided the Eternal City deserved to have its own museum depicting iconic people. Fast forward over half a century and the museum is owned by another Fernando Canini, the grandson of the founder. Nowadays, the Rome wax museum has the third-largest collection in Europe. While it might not be as impressive as the world-renowned London's Madame Tussaud's and Paris' Musée Grévin, it's a fun place to spend an afternoon.

The Museo delle Cere Rome is always adding new figures to its collections, with a wide range of characters from past and present. If you've been to Rome a few times and want to take in a different experience, this is a great place to do it. So much of the classic Rome tours is focused on the city through the ages, so seeing a few historic and pop culture characters as wax figures is a fun change of pace!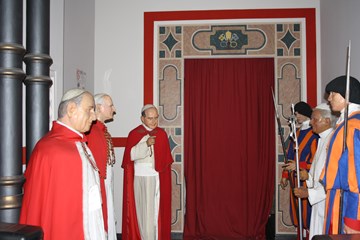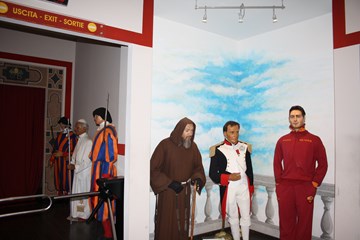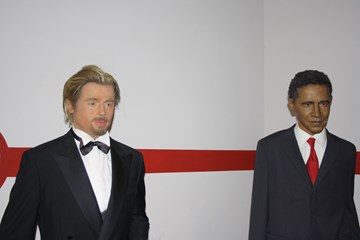 What to see in the Museo delle Cere Rome?

The museum currently holds over 250 figures, including important people from the past, living celebrities and even fictional characters. It's a great experience for kids to see life-sized versions of the people they see on movies and TV or even hear in history class. It's a fun exercise for everyone in the family to talk about how accurate the models are!

You'll find the figures are divided into categories, for a tour of different ages of Italy and the rest of the world:

• Musicians. Legendary singers like Elvis Presley, Bob Marley and Michael Jackson have a place at the museum, as do Italian superstars from recent years like Luciano Pavarotti and Andrea Boccelli.
• Inventors. You'll find figures of great scientists and inventors from history like Leonardo Da Vinci and Albert Einstein.
• Ancient Rome. Ancient Senators, Julius Caesar himself and much more.
• Popes. Three craftsmen created the Pope Francis figure in 2017, in a record time of two months; sculptor Otello Scatolini was in charge of molding the face. You'll also find figures for Pope Benedict XVI and Pope John Paul II, the latter also including work from Scatolini.
• Fairy tale characters. Snow White, the Seven Dwarfs and Sleeping Beauty and other characters from folk legends have their own section in the wax museum.
• Actors. The big screen representation ranges from classic Hollywood stars like Charlie Chaplin, Marilyn Monroe, Audrey Hepburn and Gregory Peck to today's heartthrobs Brad Pitt and George Clooney. Action movie fans will also be pleased to find Sylvester Stallone and Arnold Schwarzenegger - or even Jack Nicholson.
• History. People from throughout the ages, ranging from Cleopatra to Winston Churchill, Benito Mussolini and even Adolf Hitler.
• Poets and writers. Don't miss icons like Dante Alighieri and Oscar Wilde.
• Painters. From Renaissance marvels like Michaelangelo to 20th century stars like Pablo Picasso, art lovers will definitely find their place in the museum.
• Politicians. You'll recognize people from the news, with figures for Barack Obama, Donald Trump, Vladimir Putin, and Nelson Mandela.
You can watch how all the magic happens!

If you find the whole concept of wax figures interesting, you're in the right place. The Museo delle Cere Rome has a unique characteristic: open doors for people to see behind the scenes. You can enter the waxwork laboratory and find out how the magic comes to life. There are 6 processes involved in the making of wax figures and you can learn all of them here.

The Museo delle Cere is a great attraction for everyone. It doesn't matter if you go alone, with your partner or with your family: you will have a blast. It's a great way to learn about history and current events without children getting bored, for instance. Both adults and kids will definitely enjoy it. You can spend at least half a day there.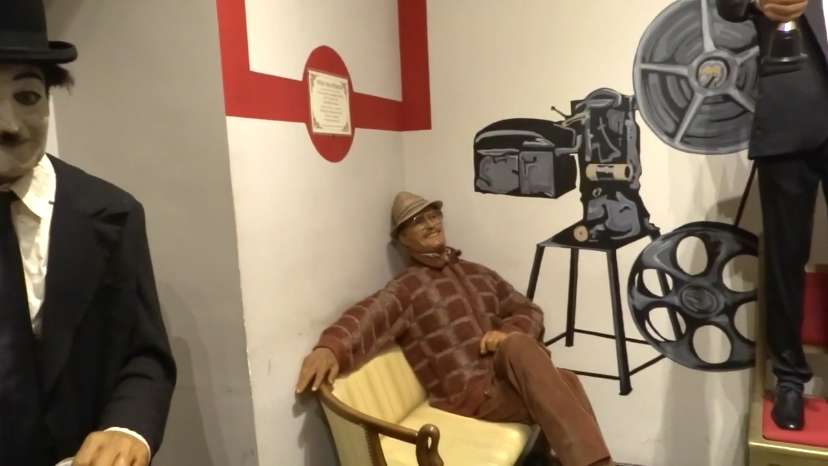 How to get to the Wax Museum Rome?

You can either reach the wax museum by bus, by metro or through both, depending on your starting location. One cool thing about this attraction is that it closes late on Saturdays, so you can visit after a day of sightseeing!
• Metro. There are no stations super close to the museum. However, if you don't mind walking a bit, you can get out at Roma Termini (Line A and Line B) or the Colosseum.
• Bus. Some of the buses that will get you the closest to this museum are lines 40, 64, 75, 85, 87, 170, 175, 810.
Essential Museo delle Cere Info

• Address. Piazza Dei Santi Apostoli 68.
• Schedules. Currently, the schedules vary depending on the day of the week.
  Monday to Friday: from 11am to 6pm.
  Saturday: from 9 am to 9pm.
  Sunday: from 11am to 6:30 pm.
• Tickets. Regular tickets are €9, while discounted prices can be as low as €7.
You might also like