Tours
POPULAR EXCURSIONS
Rome Tourist Card
Rome Tourist Card
Snap up the Rome Tourist Card and you'll get everything you need to explore Rome's top highlights including Colosseum, Palatine Hill, Roman Forum and Hop on/off bus. You can even choose the order you see things in.
Colosseum, Roman Forum & Palatine Hill: Priority Entrance
Colosseum, Roman Forum & Palatine Hill: Priority Entrance
Skip the long lines at the Colosseum with this priority-entrance ticket. This ticket will let you bypass the crowds. And after exploring the Colosseum you can head to the area of the Roman Forum and the Palatine Hill.
Vatican Museums & Sistine Chapel: Skip The Line
Vatican Museums & Sistine Chapel: Skip The Line
This ticket will make you save stress and time by allowing you to get priority entrance and skip the line. Visit the the countless masterpieces by Michelangelo, Raphael, Caravaggio, Tiziano and the Sistine chapel.
Borghese Gallery: Fast Track
Borghese Gallery: Fast Track
Galleria Borghese is located in the villa of the park Villa Borghese. Admire the architecture and furnishings of this beautiful villa. It is a museum full of art from the Renaissance. The collection includes several sculptures and paintings. Because of limited capacity get tickets for this museum weeks in advance.
St. Peter's Basilica: Dome Climb with Guide
St. Peter's Basilica: Dome Climb with Guide
Get the most out of your visit to St. Peters with a guided tour to climb the basilica's dome designed by Michelangelo and admire one of the stunning view. After the tour, you can explore the the basilica at your own pace.
More excursions & tours
Top 5 Hotels near Trevi Fountain and the Spanish Steps
Your trip to Rome will never be complete without a visit to one of the most popularly known fountains of the world, the Trevi Fountain. It features mythical figures as well as winged horses. It is as well one of the most sought after landmarks that tourists would love to see in Rome.
The Fountain was eternalized in the classic motion picture called "La Dolce Vita". When visiting the fountain, be sure to toss a coin over the water to assure a comeback trip to Rome. Nearby the fountain are the eminent Spanish Steps. Climbing up in winding stepladders till the peak of the Spanish Steps would test your courage and patience. However, your sweat and effort will be worth it. The landscape from the top of the steps will provide you with a Renaissance grandeur of the twin-domed Trinita dei Monti church.
Staying in any of the neighborhood near the Trevi Fountain and the Spanish Steps provides you with great perks. There are a huge array of hotels and accommodations near these areas. The good thing is that regardless of where you stay within the vicinities, you will surely have a perfect starting point for reconnoitering around the many sightseeing spots at the historic center of Rome which are just at a walking distance away from each other.
Hotel dei Borgognoni
Hotel Borgognoni is strategically located in an exclusive area of Rome, at the middle of the Spanish Steps and Trevi Fountain. This genuinely mesmerizing hotel exemplifies the distinctive charm of the historic center of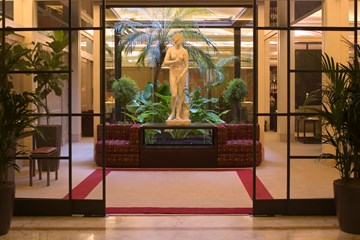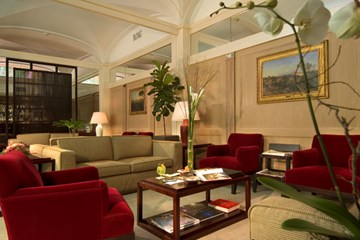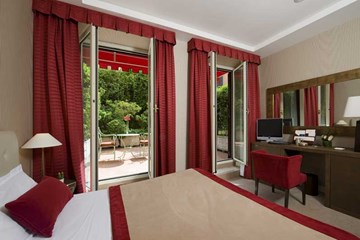 Hotel Borgognoni is a four star hotel housed in a mansion that dates back to the 19th century. This mansion was renovated in 1870 and was once owned by the Farmiento brothers.
Each of the 51 guest rooms of the hotel is embellished with contemporary design and is well-furnished with modern facilities. Every room has interactive satellite LCD television, internet access and pay-per-view channels. Guests may also avail of the Wi-Fi connection which is accessible in the conference rooms and in the lobby of the hotel.
Every morning, the hotel serves English breakfast. There is also a bar located within the vicinity of the hotel which offers hot and cold meals, beverages and a variety of snack items all throughout the day. The hotel also caters room service until midnight. There is also a secured parking area located in the underground garage of the hotel.
For those looking for a peaceful and relaxing place to stay, Hotel Borgognoni may be the perfect dreamland you are looking for.
Address
Via del Bufalo, 126
00187 Rome, Italy
Hotel Manfredi Suite in Rome
For an amazing and memorable trip in Rome, stay at Hotel Manfredi Suite. This boutique hotel is housed in an ancient theater building turned into a hotel. It is located in Via Margutta, a known artistic and romantic street in Rome.
Hotel Manfredi Suite offers a balanced combination of antique traditions and modern technology. It has a total of 18 commodious guest rooms, each with a mini bar, a private modern bathroom with hydromassage bath or shower, flat screen television set with available pay per view channels and satellite cable, a free complementary internet connection and an air conditioning unit.
The hotel is no more than 5 minutes stroll away from Via Condotti where designer shops are located.
The hotel also offers complimentary buffet style breakfast daily. The meal is comprised of sweet and savory dishes including croissants, homemade yogurt and fresh fruits. It also has a sophisticated lounge bar where guests can enjoy a glass of evening drink or perhaps spend leisure time reading magazines and newspaper.
Address
Via Margutta, 61
00187 Rome, Italy
Hotel Gregoriana
Hotel Gregoriana is situated a few steps away from Trinita dei Monti. Most of the momentous cultural and ancient jewels of Rome like Piazza di Spagna, Trevi Fountain and Palazzo delle Esposizioni are likewise just within a walking distance. Most of the best shopping streets like Via Condotti, Via del Corso and Via del Babuino are just 5 minutes stroll from the hotel.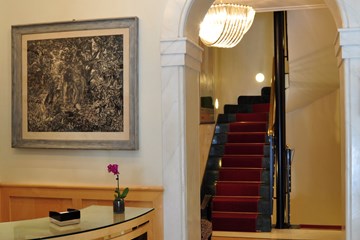 Each of the 22 guest rooms offers contemporary luxuries including top quality mattress, stylish marble bathroom with shower or bathtub, feather pillows, air condition, mini bar, 19 inches flat screen satellite television, hair dryer, free toiletries and complementary Wi-Fi access. The hotel also offers continental breakfast every morning for free.
Pets are allowed in the hotel. There is likewise an internet connection in public places within the hotel's vicinity. The hotel does not feature a parking area, but there is a parking place available nearby.
Address
Via Gregoriana, 18
00187 Rome, Italy
Hotel Barberini
Hotel Barberini is located just alongside the Barberini Plaza and the Triton Fountain. It is housed in an elegant building that dates back to 19th century. Over the years, the hotel building upholds the luxury and charm of the ancient times. This four star hotel features a perfect combination of ancient architecture and modern facilities, while still bearing the relics of its ancestries.
The main attractions of the eternal city, including the Quirinale Gardens, Triton Fountain and Barberini Plaza, are just a stone-throw away from the hotel. It has 35 soundproof rooms. Each of the rooms is intricately designed with unique detail and elegance. There is an available desk, a mini bar, a safety deposit case, an air conditioning unit, a direct telephone connection, a television set with satellite cable, a towel warmer, a hair dryer and a cabled radio in every guest room. The 4 spacious suites of the hotel also feature supplementary modern comfort like Jacuzzi and a parlor.
The hotel also serves complimentary breakfast daily at their breakfast room, which provides panoramic views of the enchanting eternal city. There is also an available lounge bar, as well as business center in the hotel.
Address
Via Rasella, 3
00187 Rome, Italy
Piazza di Spagna Prestige
Piazza di Spagna Prestige is located in the heart of Rome, just 2 minutes stroll from Via dei Condotti, one of the most popular and most fashionable shopping streets in Rome. This stylish and jovial hotel is surrounded not only by many shopping boutiques, renowned bars and superb restaurant choices but also by many significant monuments and sightseeing attractions in Rome.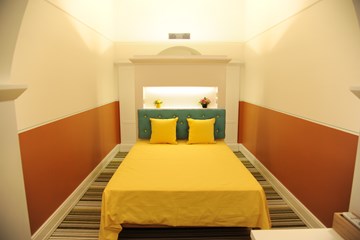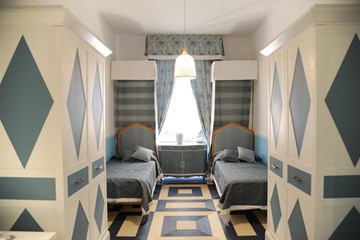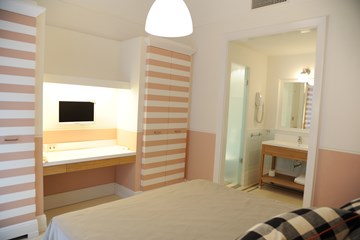 The rooms are spacious and unique, each with its own sense of distinctiveness. The suites are equipped with a complementary Wi-Fi internet connection, a satellite LCD television, private bathroom, hair dryer and air conditioning unit.
Both private and public places throughout the hotel are smoke free areas. There is a designated smoking area in the hotel, though. Dog lovers are welcome to bring their beloved pet animals since the hotel is a dog-friendly place. For those who bring their pets with them or those who travel with toddlers less than 3 years old that need to stay in a crib, don't need to worry for additional fee.
Address
Via della Croce 33,
00183 Rome, Italy
You might also like