Neptune Fountain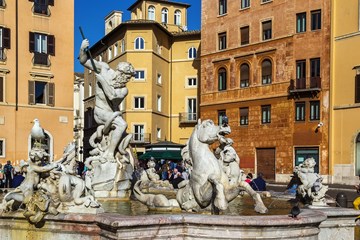 Neptune Fountain, previously known as Fontana del Nettuno, is one of the three fountains found at Piazza Navona and the others are the Fountain of the Moor and the Fontana dei Fiumi.The fountain was specially made in commemoration the newly appointed Pope Pious IV, Giovanni Angelo di Medici.
It took 300 years to totally finish the Neptune fountain because of the damages of the past (mostly bombardments and vandalism). The fountain was used as a washbasin for laundry and market goods as well.
In 1547, the Neptune fountain was initially designed like a basin by Giacomo Della Porta which is made of two different materials. The upper part is made up of stone and the lower part is marble. Later on, a muscled giant was placed.
In 19th century, the Neptune fountain was finally completed by Antonio della Bitta. The Neptune fountain bears an image of Neptune, god of the sea, fighting with an octopus together with the sea nymphs.
The symmetry of the square was considered before the Neptune Fountain was completely finished in order to match the other two fountains to symbolize harmony
Also Interesting
Trevi fountain
The Trevi Fountain is the largest and most famous fountain in Rome with a width of 22 meters and height 26 meters. It is situated at the Piazza di Trevi Read more......
Piazza Navona
Piazza Navona, a 15th century oblong square, is the remains of Circus Agonalis, a former sporting stadium built by Emperor Domitian in 86 BC. Read more......