Ciampino airport
Ciampino – G.B. Pastine International Airport or simply Rome Ciampino Airport, is both a commercial and armed forces airport in Rome Italy which is one of the only two airfields in the area. It is located about 12 kilometers southeast from the focal point of Rome and is near the Greater Ring Road.
History
It started its operation in 1916 and one of the world's longest running airports. It used to be Rome's central airport with a higher rate of passenger arrivals reaching more than two million every year. However, in 1960, the Leonardo da Vinci Airport opened and became the main airport of Rome replacing the former. Since then, the Ciampino airport has been handling mostly exclusive and chartered flights.
After years of decreasing passenger traffic, low-cost airline carriers have boosted the Ciampino airport and again, it has now become one of the most congested airport in Italy when it comes to passenger and cargo traffic.
Airport transfers
There are vehicles that travel from Rome to Ciampino Citta and it takes just 15 minutes. From there, passengers need to ride in a bus for a few minutes to reach the airport.There are official taxis around that can be identified by its white color and the illumination of a 'Taxi' signage.
There are also direct bus connections going to the center of Rome (or the Termini railway station) and to other local stations and destinations. Bus operators like the COTRAL/Schiaffini, Terravision ltd, and BusShuttle provide bus services from the airport to the city proper or the Roma Termini station with a travel time of about 40 minutes.
For those who wanted to book a taxi online, the Global Taxi Reservations Ltd offer real-time internet taxi reservations. Every passenger arriving or travelling who are in need of a confirmed, efficient, and professional service can book online.
For passengers who wanted to hire a car, there are car rental offices located at the arrival halls. Several rental companies are there, including Avis, Hertz, Europcar, Thrifty and Sixt.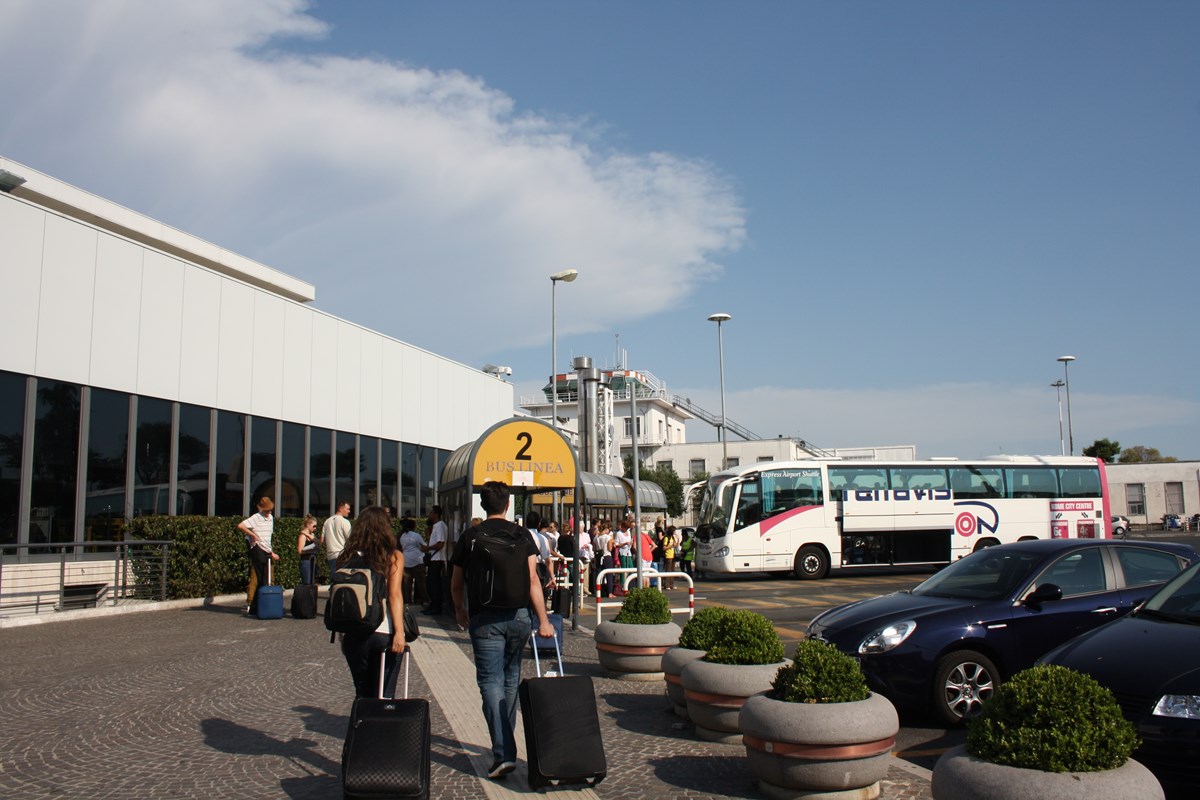 Facilities
There is an accessible hall and lounge for VIPs at the airport with a snack bar, personalized embarkation and disembarkation gates, held in reserve check-in areas, and a "crew rest room", which is a multi-functional room for conferencing and business meetings; and a pilots operations room. The airport is also convenient for disabled and incapacitated passengers and provides modern facilities and services patterned to international standards.
Hotel accomodation
Hotel Villa Giulia is situated right by Ciampino's main square and is 300 meters away from the train station. It gives passengers fast links to the airport. It also provides free internet connections. Staffs here are multilingual and are available 24 hours a day. Rome's Greater Ring Road is just a kilometer away and this hotel provides free indoor parking.
Shopping
The Ciampino airport houses various shopping centers that offer everything from perfumes to designer clothing brands to Italian's famous liquors and tasty food products. As for travelers going to non-European member nations, there is an accessible duty free shopping for them.
Without even reaching the Rome's central yet, passengers here can already purchase accessories, books, tobaccos, electronic gadgets, gifts and souvenir items. Shops like Good Buy Roma, Air Store, Alpha, Just Design, Solissimo, Yamamay and Zucca Stregata can be found here as well. There are also the usual tour and travel stores and newsagents dotted all over the airport.
Airlines
Among the cut-rate airlines serving the airport are Ryanair and Wizz Air. There are information desks with friendly staffs and concierge, speaking multi-lingually, for all the passengers upon arrival to cater to their needs of excellent services. The General Aviation Terminal has cash points and ATM machines. There is also a Banco de Roma located nearby.
Destinations for the Ryanair includes Alghero, Barcelona, Bari, Beauvais, Billund, Bergamo, Bordeaux, Bratislava, Bremen (begins 4 April 2013), Brindisi, Brussels-Charleroi, Budapest, Cagliari, Chania, Dublin, Edinburgh, Eindhoven, Glasgow-Prestwick, Gothenburg-City, Hahn, Ibiza, Karlsruhe/Baden-Baden, Kraków, Leipzig/Halle, London-Stansted, Madrid, Manchester, Marrakech, Marseille, Nottingham/East Midlands, Oslo-Rygge, Palma de Mallorca, Porto, Poznań, Santander, Seville, Stockholm-Skavsta, Thessaloniki, Trapani, Valencia, Vilnius, Warsaw-Modlin, Weeze, and Wroclaw.
Wizz Air flies to fewer destinations that include Bucharest-Henri Coanda, and Katowice.
For those who wanted to book for tickets and avail of promotions can go to:
You might also like