Tours
POPULAR EXCURSIONS
Rome Tourist Card
Rome Tourist Card
Snap up the Rome Tourist Card and you'll get everything you need to explore Rome's top highlights including Colosseum, Palatine Hill, Roman Forum and Hop on/off bus. You can even choose the order you see things in.
Colosseum, Roman Forum & Palatine Hill: Priority Entrance
Colosseum, Roman Forum & Palatine Hill: Priority Entrance
Skip the long lines at the Colosseum with this priority-entrance ticket. This ticket will let you bypass the crowds. And after exploring the Colosseum you can head to the area of the Roman Forum and the Palatine Hill.
Vatican Museums & Sistine Chapel: Skip The Line
Vatican Museums & Sistine Chapel: Skip The Line
This ticket will make you save stress and time by allowing you to get priority entrance and skip the line. Visit the the countless masterpieces by Michelangelo, Raphael, Caravaggio, Tiziano and the Sistine chapel.
Borghese Gallery: Fast Track
Borghese Gallery: Fast Track
Galleria Borghese is located in the villa of the park Villa Borghese. Admire the architecture and furnishings of this beautiful villa. It is a museum full of art from the Renaissance. The collection includes several sculptures and paintings. Because of limited capacity get tickets for this museum weeks in advance.
St. Peter's Basilica: Dome Climb with Guide
St. Peter's Basilica: Dome Climb with Guide
Get the most out of your visit to St. Peters with a guided tour to climb the basilica's dome designed by Michelangelo and admire one of the stunning view. After the tour, you can explore the the basilica at your own pace.
More excursions & tours
Best Selling Rome Travel Guides
Sure, you know the Colosseum and the Trevi Fountain are in Rome. But do you know how to get there when you land on one of the most historic cities in the world? If it's your first trip to Rome, one of the must-haves in your preparation is buying (and studying) a Rome Travel Guide.
We compiled Amazon's Best Selling Rome Travel Guides for you. Read on and find the best travel guide that will suit your needs when you visit the majestic city of Rome.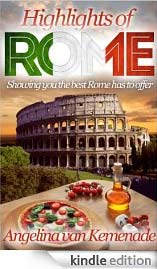 You want to go to Rome for a short holiday and want a travel guide to take along showing you the best monuments and attractions Rome has to offer. Then this one is for you. The best attractions, walking routes of interesting areas and hints and tips are given in this guide. Travel information. Also some hints on what to do in Rome when travelling with kids (or adults who still like themeparks and waterparks). Hope you like this book that I wrote myself and made available for a affordable price on Amazon.
Rated: 5 out of 5 Stars (6 reviews)
People who've read this said…
"I had searched some books about heritages and found best one name as Highlights of Rome"
"Thanks to author to give this valuable resource and save my time!"
You cannot write on something you do not know, as what they say. So if there is someone whom you can trust in creating a great Rome travel guide, then Rick Steves is your man. Rick makes sure he spends 100 days in a year exploring Europe's every crook and crannies.
Travel through Rome like a local. Rick has advices on how to avoid long queues, what bus to take you to where, and the best local gelato in town (for a cheap deal too!)
Rick will also help you to pick the best sights and activities that suit everybody's interests. Learn all about good-value accommodations, shops and restaurants too! More than that, Rick's Rome Travel Guide is written in a fun and humorous way that would make you enjoy your stay in Rome more.
Rated: 4.9 out of 5 Stars
People who've read this said…"It is conveniently organized, providing insightful information as to the many attractions and historical sites; it also provides great suggestions on wonderful and truly local places to eat, as well as handy Italian phrases."
"Reading this book makes me feel like I'm already there. Very detailed and complete. Great tips and I especially appreciate the suggested times and prices."
"Rick Steve has a good sense of humor and he is well-informed on both the sights and the history surrounding those sights."
Purchase the Book at Amazon
Know More About Rick Steves
If you're someone who is very keen on details and want each day of your Rome trip to be planned in perfection, then Adele Evan's DK Eyewitness Travel Guide of Rome provides you with all the things you need to know about accommodations, transportation, sightseeing and so much more. This travel guide will give you insider tips on how to make your Rome travel much easier.
The book is filled with pictures and sneak peeks that will surely make you more excited than ever to start exploring Roma. The new version of the travel guide includes a map of Rome that is easier to use than most. It's useful for both traveling on wheels or on foot.
Rated: 4.8 out of 5 Stars
People who've read this said…
"I've come to the conclusion that if you're the type of person who actively plans trips and has an idea of at least some of the things you want to do, there is no better guide for a city expedition than Eyewitness"
"Great book that was very helpful deciding where to go in Rome, especially with limited time. Worth purchasing, has a map that tears out."
"The pictures help make everything come alive and the Maps are excellent in helping to plan a walking experience that doesn't double and triple cover the same ground."
If action speaks louder than words, then so does photographs! Fodor's Rome Travel Guide is bursting in full color high definition photos of the best sites of Rome. Most people are visual, so nothing could be more convenient than a guide full of illustrations.
Aside from that, Fodor's Rome Travel Guide will assist you in choosing the best place to stay, the best sites to see and the best tables to eat. Fodor also has suggestions on how your day should go about in the city and how to best spend your day without wasting a minute of precious time.
Rated: 5 out of 5 Stars
People who've read this said…
"With a star recommended system that helps you figure out what the best and most important sites, hotels, restaurants are. It is a comprehensive guide book that covers all my needs and interests."
"Fodors Rome is the only guide book I will take to Rome next year."
Know More About Fodor's Travel Intelligence
National Geographic has been known to feature different places and people from all around the world. Recently, Nat Geo released their all-new series that highlight great cities in the world. Their version of a travel guide is very friendly since it comes in a handy, easy to take along format.
Walking Rome is divided into two sections namely the Whirlwind Tours and the Neighborhoods.
In the Whirlwind tour, Nat Geo tells travelers how to see and experience the bustling city of Rome in a weekend or even just for a day! It also includes information like what kids would like best. Plus, it features a dawn till midnight and beyond pure pleasure tour that will surely take every hedonist's breath away.
In the Neighborhoods section, Nat Geo presents a step-by-step tour to every neighborhood in Rome and the best sites they have to offer. Explore the ancient heart of Rome to the modern communities.
Throughout the book are sidebars wherein you can see tips on eating, shopping, going about the town, plus insider tips and interesting trivia.
Rated: 4.8 out of 5 Stars
People who've read this said…
"I love the format of this book. Organized in bite-sized geographic sections"
"This book is ideal for the first time visitor and for the returning visitor. The maps, pictures, and descriptions are very helpful."
"Used it everyday to plan itinerary's during a two week stay and carried it everywhere often finding unplanned high points as we cruised around the city on public transportation."
Know more about National Geographic Travel…
Who else can tell how to best appreciate Rome but a Art Historian herself, Alta Macadam. Alta has been writing since the 1970s and she has written over forty books about Italy since then.
Her book is always updated and fresh, covering different places to see, eat and stay. Being an art historian, the Blue Guides are focused on Rome's art history and architecture with many great ideas on how to enjoy your visit to the Eternal City.
The book is easy to use and understand which makes it a very essential handbook for any traveler, whether for the first time or not. The book comes with full color photographs and maps that can be of much use to travelers.
Rated: 5 out of 5 Stars
People who've read this said…
"This is quite simply the most informative, most in-depth guide book currently available on Rome….it gives the reader a well-written synopsis of every important monument in a city so rich in myth and history."
"I can say that the writing is engaging, lively, and while there are not hundreds of images, there are dozens, they are of good quality, and the floor plans and diagrams are excellent. The amount of detail and the thoroughness of the writing is fantastic."
"Used This book is for the traveler interested in learning and understanding the history and culture of Rome, not for the one going just for taking pictures by the monuments."
You might also like