Fontana del Tritone
The Triton Fountain (Fontana del Tritone) is another one of Gian Lorenzo Bernini's creations. This was built for the Palazzo Barberini, which was owned by Pope Urban VII's family.
There are several elements in the fountain that represent Pope Urban VII and the Barberini family. The three B's are incorporated in the family coat of arms. The tiara and keys represents the Pope.
Ovid's Metamorphosis was also one of Bernini's inspirations for this fountain. The story tells about how Triton, son of Neptune, blew his horn and thus put an end to the great flood. Triton is depicted as a muscular sea god, kneeling on a scallop shell and supported by four dolphins.
After a year when Fontana del Tritone was completed, Pope Urban VII died.
According to local stories, whoever throws a coin over his shoulder into the fountain will return to Rome. The same story is popularized about the Trevi Fountain.
The Triton Fountain is located at the Piazza Barberini, outside the Palazzo Barberini.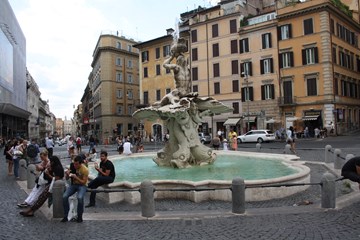 You might also like