Piazza del Popolo
This square is named after the poplar, a deciduous tree of the willow family. The square was designed by Giuseppe Valadier between 1811 and 1822. Valadier designed two half laps to the obelisk. The central fountain that once stood on this square has been moved to Piazza Nicosia to make four fountains with Egyptian lions that were placed around the obelisk. Place in 1818 Piazza del Popolo is located on the Pincio hill.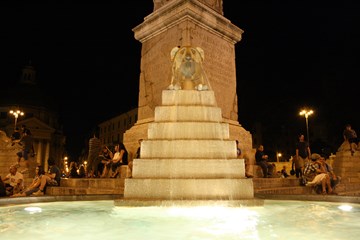 What can you find in the square
Two almost identical churches Santa Maria dei Miracoli and Santa Maria di Monte Santo. The churches are separated by Via del Corso. These churches are called the Twin Churches.
On the north side is the church Santa Maria del Popolo Church
The gate of the Aurelian wall, Porta del Popolo. It was restored in 1655 by Bernini commissioned by Pope Alexander VII. This was for Queen Christina of Sweden who had to convert to Christianity in Brussels and has started to settle in Rome and queen who had no further land.
Egyptian Obelisk, it originally stood in the Circus Maximus. This obelisk is one of the largest (36 meters plinth) of Rome and the oldest third
Fontana dell'Obelisco
Fontana del Nettuno
Also Interesting
Piazza Navona
Piazza Navona, a 15th century oblong square, is the remains of Circus Agonalis, a former sporting stadium built by Emperor Domitian in 86 BC. Read more......
Piazza Venezia
Piazza Venezia and Venice Square is a square in Rome where four major roads meet. Piazza Venezia is located at the foot of the Capitoline Hill. Read more......
Aurelian wall
The Aurelian wall is the city wall of Rome. You can learn more about the history and the construction of the wall in Museo del Mura. Read more......