Ninfa
Ninfa is a huge town of the Roman times. It is situated 64 kilometers southeastern part of Rome in Lazio, Italy. This village is known as the perfect resting place when traveling from Rome to Naples and vice versa. The village was ruined by the civil war which occurred around 13th and 14 century. It lies at the base of the Lipini Mountains.
Ninfa is popularly known for its beautiful botanical gardens. The Gardens of Ninfa is considered among the world's most beautiful gardens. It consists mainly of flowers and plants that grow abundantly on the ruins of the village.
Ninfa Village
The village of Ninfa was founded during the Roman times. The population thereof is consists mainly of farmers. The estate was dominated by the aristocratic Caetani family. Ninfa was once a scenic village. However, the village was abandoned during the Middle Ages because of malaria outbreak. The village then remained to be just a slumber right up till the 20th century.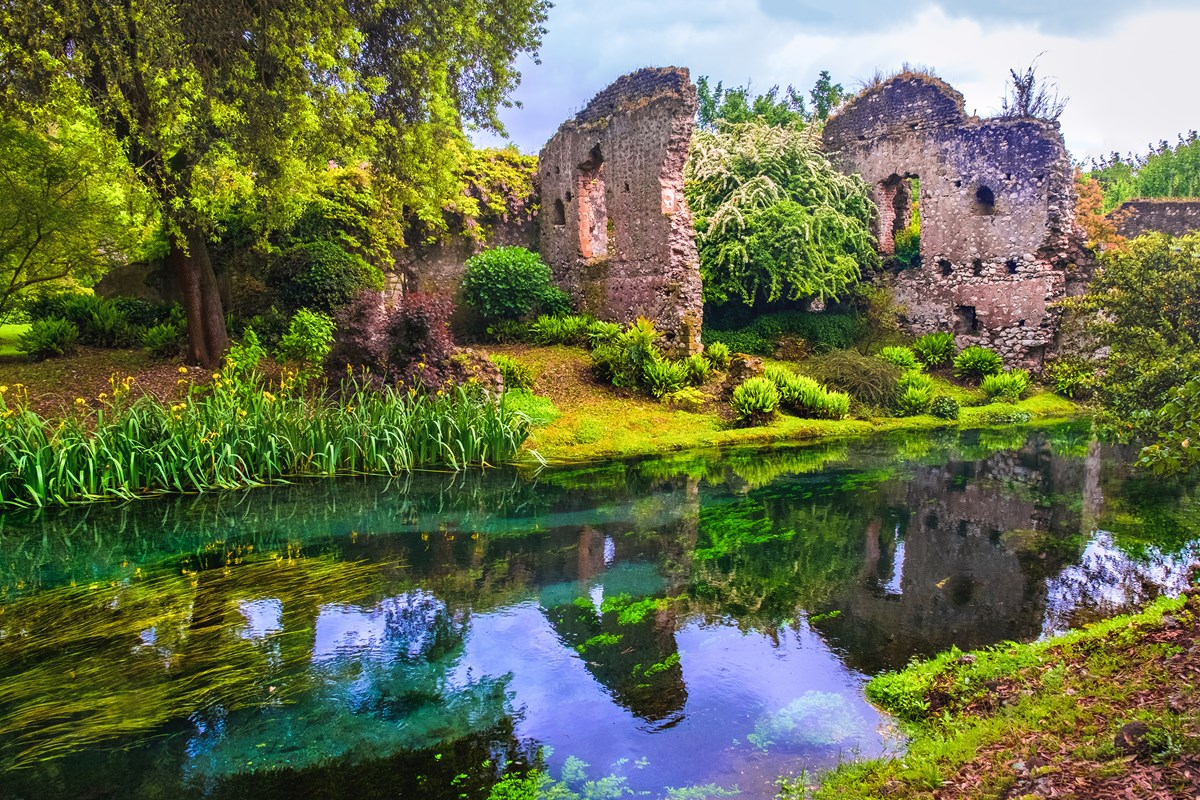 The Garden of Ninfa
It was during the 20th century when the successors of the Caetani family decided to transform the ruined village into a botanic garden. Since then, the ruins became a stunning spot for garden enthusiasts and for people who are seeking for a good ambiance of nature. Lelia Caetani, one of the successors, was the last owner of the botanical garden. But before she left, she legated the botanical garden under the management of a foundation.
The Garden of Ninfa is considered as the most romantic garden in the world. This exquisite garden is brimming with rare plants. The gleaming waterfalls also add up to the beauty of the botanical garden. The roses and other lovely flowers scrambling along the ruins of the village give an indescribably impressive ambiance.
How to get to Ninfa
Getting to Ninfa is quite challenging but what you can see in the garden is quite satisfying and is worth your effort. The best way to get to Ninfa is by car. In case you don't have one, you can easily rent one in Rome. You can likewise get to Ninfa by taking the train. From Rome, you need to stop at the Latina because it is the closest spot to Ninfa. From Latina, you can hire a taxi to finally get to Ninfa,
Visiting hours
April to October: Every first Saturday and Sunday of the month.
Entrance Fee
Full price: € 10,
Children under eleven years: free
Also Interesting
Baths of Caracalla
The Baths of Caracalla is the second largest baths in Rome. It was a large complex with an area of 120,000 square meters and it can accommodate 1600 guests. Read more......
The Twin Churches
The Santa Maria dei Mircoli and the Santa Maria in Montesanto are known as the Twin Churches because of its identical exterior structure. Read more......