Tours
POPULAR EXCURSIONS
Rome Tourist Card
Rome Tourist Card
Snap up the Rome Tourist Card and you'll get everything you need to explore Rome's top highlights including Colosseum, Palatine Hill, Roman Forum and Hop on/off bus. You can even choose the order you see things in.
Colosseum, Roman Forum & Palatine Hill: Priority Entrance
Colosseum, Roman Forum & Palatine Hill: Priority Entrance
Skip the long lines at the Colosseum with this priority-entrance ticket. This ticket will let you bypass the crowds. And after exploring the Colosseum you can head to the area of the Roman Forum and the Palatine Hill.
Vatican Museums & Sistine Chapel: Skip The Line
Vatican Museums & Sistine Chapel: Skip The Line
This ticket will make you save stress and time by allowing you to get priority entrance and skip the line. Visit the the countless masterpieces by Michelangelo, Raphael, Caravaggio, Tiziano and the Sistine chapel.
Borghese Gallery: Fast Track
Borghese Gallery: Fast Track
Galleria Borghese is located in the villa of the park Villa Borghese. Admire the architecture and furnishings of this beautiful villa. It is a museum full of art from the Renaissance. The collection includes several sculptures and paintings. Because of limited capacity get tickets for this museum weeks in advance.
St. Peter's Basilica: Dome Climb with Guide
St. Peter's Basilica: Dome Climb with Guide
Get the most out of your visit to St. Peters with a guided tour to climb the basilica's dome designed by Michelangelo and admire one of the stunning view. After the tour, you can explore the the basilica at your own pace.
More excursions & tours
Rome Segway Tour
What is a Segway ?
Designed by Daen Kamen, a man in a wheelchair, the Segway PT is a self-balancing, two-wheel, personal transportation device. This cute, scooter-like, electrically powered device is very convenient when touring Rome. It has the advantages that walking or biking don't have andplus, it's exciting.
As we all know, the city of Rome is a one big museum in itself and you simply want to see every site and landmark. Many people choose to tour by foot or by bikes rather than by a car or bus. For one good reason, it is easier to stop by if you want to take pictures of a particular area or place when you are walking or biking.
However, not everyone embraces the idea of walking and not everyone knows how to drive a bike. Therefore one of the best options is for you to take the Rome Segway Tour.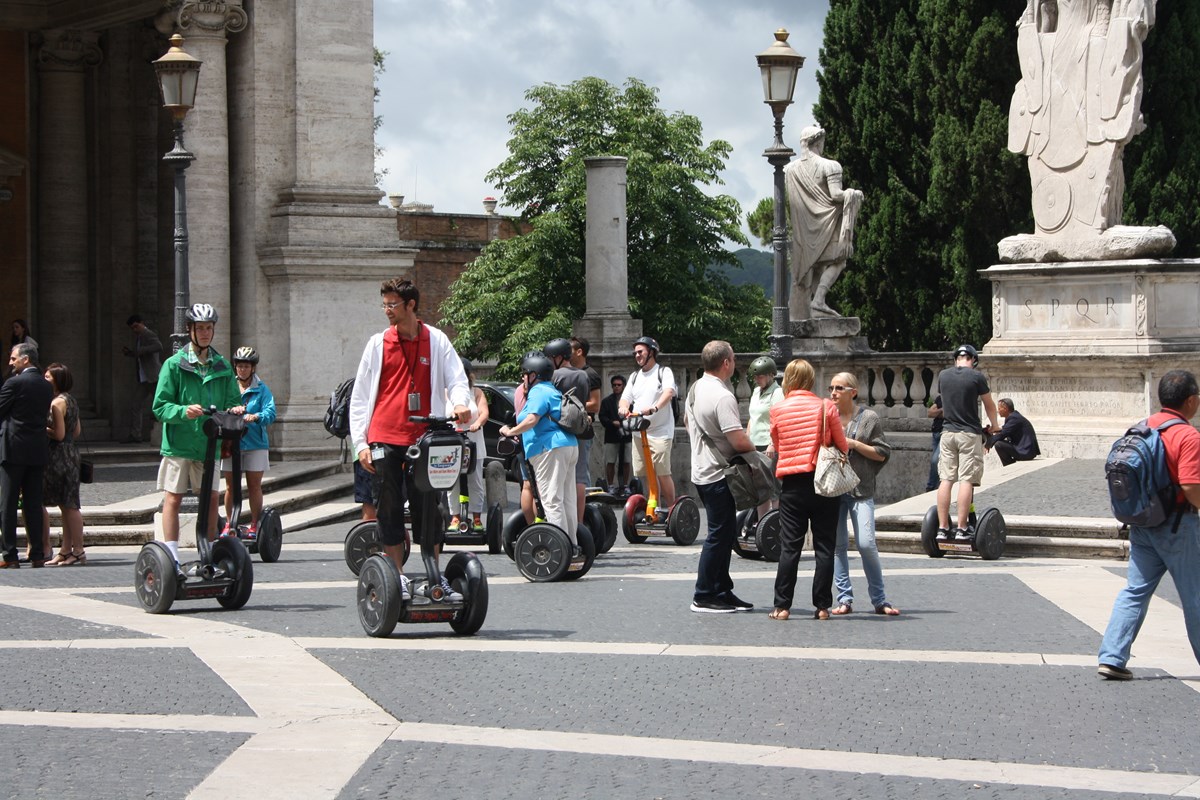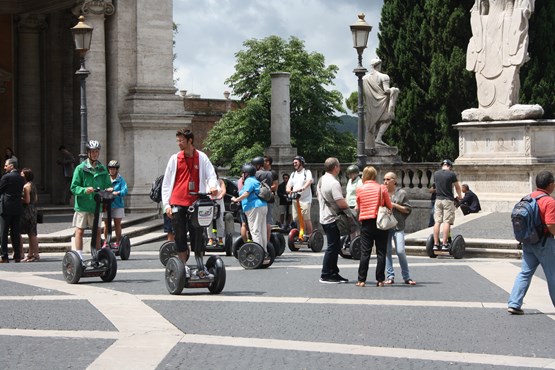 Segway Tour
The Rome Segway Tour begins with a half an hour practice round, so everyone can familiarize how the Segway is operated. During the three-hour tour, you will be given a headset with an English audio guide. An experienced tour guide will also be with you as he leads you along to the highlights of Rome.
The tour itinerary includes the:
Circus Maximus
Ark of Constantine
Roman Forum
The Colosseum
Palatine Hill
Church of Santa Maris and Bocca della Verita Statue at the Wall
During the tour, you will enjoy and experience the breathtaking panoramic view of Rome.
The minimum group size for the Segway Tour is two (2) and the maximum is eight (8). The groups are kept small enough so that the guide will have everybody's attention. The Segway tour is not suitable or advised for anyone below 12 years old or more than 70 years old. All riders must weigh between 100 to 250 pounds (45-110 kg).
Be Comfortable!
Make sure you wear your comfortable shoes on! Actually, make sure you are wearing comfortable clothes and bringing only a light backpack. Rain or shine, the tour will continue so you have to be prepared. Don't worry though, all participants will be provided with raincoats.
For safety purposes, helmets are also provided to all participants. You can also bring your own knee and elbow pads if you want.
Online Booking
When you book the tour online, you will receive a voucher. Take this voucher along with you as this will serve as your proof of payment.
You might also like