New: fasttrack tickets Colosseum + Forum + Audioguide now $11,44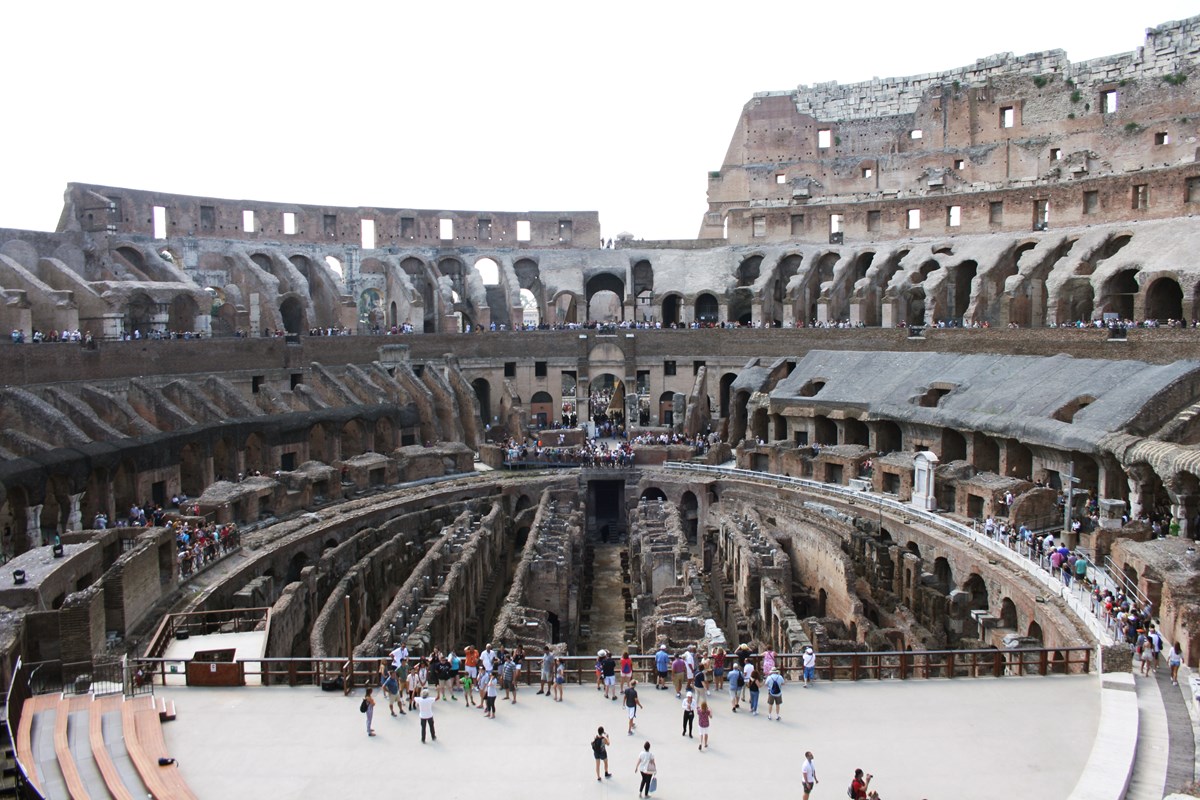 It is one of the greatest works of Roman architecture and engineering. Currently in ruins, the Colosseum is one of the most popular attractions in Rome! Recent estimates show that around 55,000 people could sit there to watch the games. Something to attract your curiosity!  
Highlights:
CORONA SITUATION: 
Due to the pandemic situation, the Colosseum has decided to reopen their doors in different phases. From the 1rst of June the first phase will be applied and the Colosseum will allow visits again with the following sanitary norms and regulations:
The use of masks is obligatory.
Before entering your temperature will be measured with a laser. Visitors with higher body temperature than 37.5 won't be allowed to proceed with the visit. 
Distance between visitors is obligatory (at least 1,5 meter).
Security scanner.
Visit time is limit for 45min

To facilitate the entrance, please get your documentation ready in advance. The opening times are different during the pandemic. Please check your tickets carefully to know when to enter and when the Colosseum will close. 
Why is this product Corona safe?
Hand sanitiser available 
Encouragement of mask wearing can be compulsory. Bring it when you can
Reduced capacity and distancing measures on the vehicles/vessels
Staff will encourage visitors to keep distance
When you book a ticket, you automatically agree with our Terms and conditions
What is included in your ticket? 
A Fast track tickets for the Colosseum, Palatino Hill and Roman Forum and the Arena Floor
Free audioguide included in English, Spanish, Italian, German, French, Portuguese and Chinese* 
The ticket allows only one timed entrance to the Colosseum with access to the arena, and only one open entrance to the archaeological area of the Roman-Palatine Forum, including the current exhibition
Non-EU citizens have to present a Passport for children identification instead of an ID card 
*After your reservation you will receive the tickets. In the confirmation email you can download the audioguide on your phone from Google Appstore or the Appstore. We explain you how this works in the email. 

About the Palatino Hill and Roman Forum: 
On Palatino Hill you find the ruins of palaces, a museum and other beautiful buildings. Located between the Colosseum and Vittorio Emanuele II Monument, you find the forums. The forums were the heart of the late Roman Republic and of the Roman Empire. 
How does it work? 
It is very simple. You can choose a timeframe between 15:00 - 16:00, 16:00 - 17:00 or 17:00 - 18:00. When you would like to enter the Colosseum earlier than you can visit our Regular Tickets for €20,50 by clicking 
here
. 
Please note that in this entrance gateway, when you travel with children, you need to identify the age of children at the Ticket Desk which is located in this special entrance gate. 
Opening hours: 
From 31st June to August 31st, from 10:00 to 18:15
Please Note: 
Fast track tickets does not exempt you from security controls. Visitors and their luggage will be screened for security reasons. 
Ticket types: 
Reduced ticket: EU citizen between 18 to 25 years old Full price: 
Non-EU citizen, even up to 25 years old and EU citizen from 25 years 
Children price: Less than 18 years old 
Be aware! The Colosseum staff will ask you for your ID. 
More news...